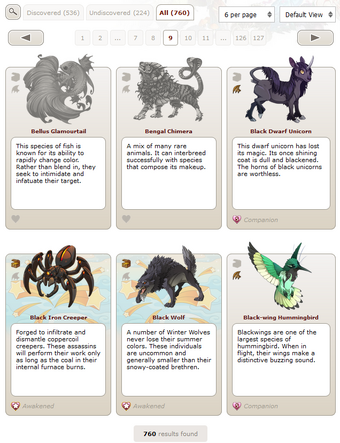 The
Bestiary
is a record of the
Familiars
a player has obtained in
Flight Rising
. It shows the description and picture of every familiar that exists in-game, whether the user currently has it or not; unowned familiars' pictures will be greyed out, while owned familiars will be in color. Upon Awakening a familiar, the familiar's picture becomes permanently colored even if the familiar is gotten rid of. If the familiar is both Awakened
and
owned, the background becomes blue with yellow shooting stars bursting outwards. A familiar that is owned is defined as one that is in the player's hoard/vault or equipped to a dragon.
A familiar's bonding level stays the same even if a player sells (or melts) it and gets a new one—the level is stored on the account, not the individual familiar itself. Bonding level appears in the bestiary under the familiar's description along with a colored pink heart displaying either a number between 1 and 6 or a star depending on the bonding level. In addition to bonding level, the bestiary also keeps track of whether the familiar is attached to a dragon (displaying a colored dragon wing) or is in the user's hoard or vault (displaying a colored treasure chest).
The bestiary was revamped on October 10th, 2019 to include a search function and 3 tabs:[1]
Discovered: This includes all familiars that a player currently owns a copy of (Hoard/Vault/dragon), and/or those that have advanced to a bond level of Awakened.
Undiscovered: This includes all familiars that a player does not own a current copy of and has never reached awakened status.
All: This tab is similar to the old Bestiary. It will show all familiars, regardless of ownership or bond level.
List of Familiars
Edit
As of August 31st, 2020, there are 889 familiars in the game.
Click expand to view the lists for each letter. Use "Ctrl" + "F" ("Command"+ "F" for Macs) to search for a specific phrase or familiar when the section is expanded.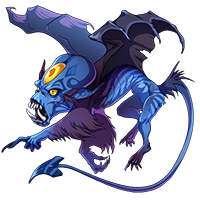 Aberrant Chacma
The warped energies of the portal have gifted this chacma with the ability to inflict its headache upon others.
Abyss Striker
These observers cluster around ancient aquatic ruins. They may change color to blend with their surroundings.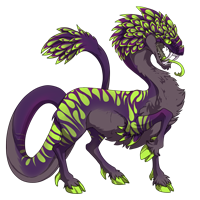 Acid-Tongue Serpenta
It is recommended to stay as far from these hostile creatures as possible -with the exception of plague dragons, who have a natural immunity to serpenta venom. (Colored by autumnalis.)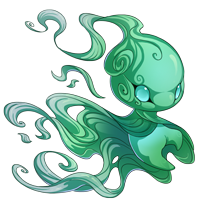 Aer Phantom
While they appear non-threatening, dragons take care not to let this spectral creature pass through them.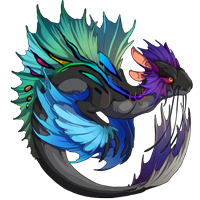 Agol
A backwards thinking creature.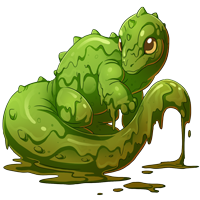 Algae-Bottom Slarg
A slarg must keep its skin moist to stay hydrated and avoid suffocation.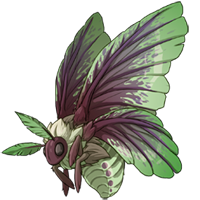 Amaranth Moth
This distinctive moth has deep reds and purples running through its leafy wings. It's difficult to classify as purely flora or fauna.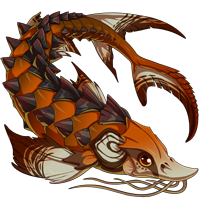 Amber Gulper
Sometimes dragon eats fish. Sometimes fish eats dragon.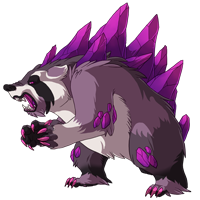 Amethyst King
Warped by unstable energies, these arcane-infused ursidae lose all sense of reason when angered. (Colored by LadyKianna.)
Ampelope
The constant electrical charge that permeates the warm air of the arid savanna acts as an energy boost to this already spry creature. Catching one is extremely difficult.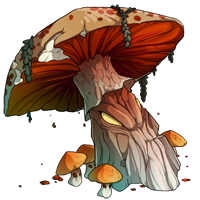 Ancient Fungus
The most crotchety of fungi. As it ages the outer shell becomes crackled and hard as stone.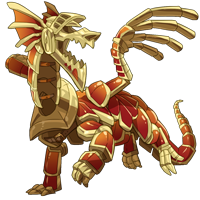 Animated Armor
A blessing and a curse, donning this armor will increase one's martial abilities, but also one's taste for battle.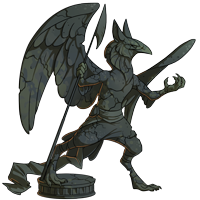 Animated Statue
This peculiar statue wasn't standing there when you last looked, and it certainly wasn't posed in that way either. Don't turn your back. Don't look away
Anomalous Nekomata
Nekomata sleep with their eye open. It's as disconcerting as it sounds.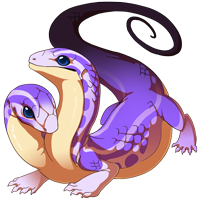 Anomalous Skink
Two heads are better than one, except when they're connected to two stomachs. Food fight!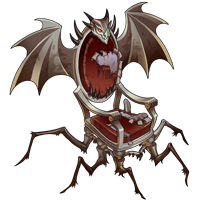 Antique Chair
Ewwww... gross! Yuck! The upholstery is definitely the wrong color.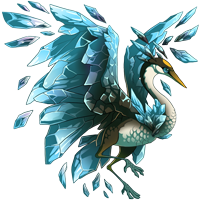 Apatite Fisher
Feasting on a diet of crystal-scaled fish has had a dramatic effect on the plumage of this crane.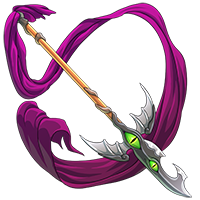 Apparition Lance
Spiritcallers have devised a peculiar language of whistles that can be employed to telekenetically control this deadly weapon.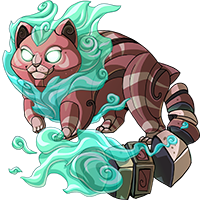 Aragonite Haunt
Deactivated golems make an excellent home for wandering spirits.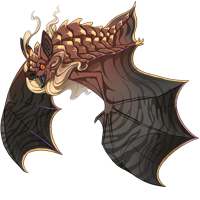 Armored Duskflapper
Thousands of years of evolution have granted this bat hardened armor to protect against falling magmatic debris.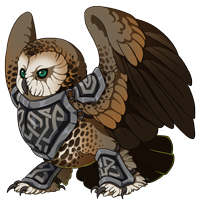 Armored Greatowl
It is arguable whether the armor makes the owl more or less deadly. Without the armor their flight is nearly silent.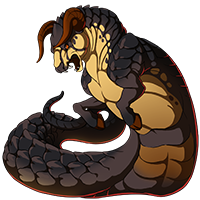 Ashscale Ophiotaurus
You'd think that, as a serpent, having hooves would be a detriment. You'd be wrong.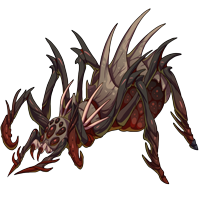 Ashspine Widow
A gnarly, vicious land spider that is more at home on the cooled lava than you are. There is definitely reason for concern.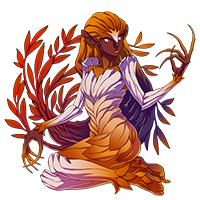 Aspen Gall Dryad
Dryads will attack dragons that attempt to cut or harvest any piece of their grove.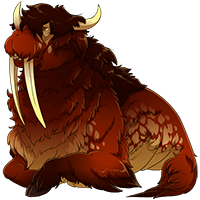 Auburn Woolly Walrus
Their severe overbite causes them chronic discomfort, sometimes resulting in unprovoked hostility.
Augite Protector
Keeping an Augite creation in good working order involves semi-regular patching and allowing the creature long stretches of slumber.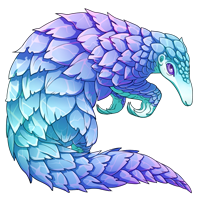 Aurora Pangolin
This variety of pangolin is known for a vibrant shift of color, each unique to the individual. (Colored by biskitten.)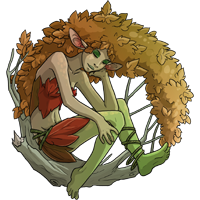 Autumn Dryad
The autumn dryad is often seen guiding local fauna to burrows or caves so that they are protected from the approaching colds of winter.
Autumn Millifae
This shiny arthropod is a deft swimmer; it is quite a treat to see one swirling and twirling down a creek during the waning sunlight of autumn.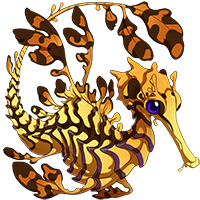 Autumn Sea Dragon
These creatures will conceal themselves among sea grasses, adding a touch of autumn color to underwater fields of green.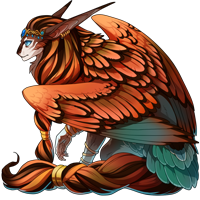 Autumn Sphinx
Assuming rulership of the sphinx prides with the turning of the leaves, autumn sphinxes lead during a time of bounty and encourage their prides to excess.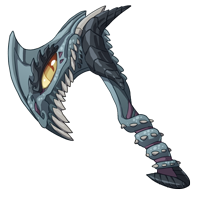 Axe Mimic
Sure, 'collector's item' you might say. Might we suggest an axe that doesn't have teeth and eyeballs?
---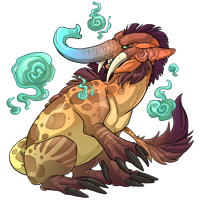 Baku
Baku are able to walk both the physical and ethereal plane.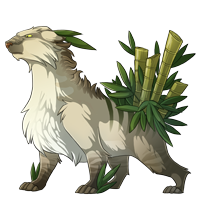 Bamboo Phytocat
Little is known about how the Bamboo Phytocat's physiology evolved, but one thing is for certain: watch the reeds as you walk.. (KS-sponsored by kiohl.)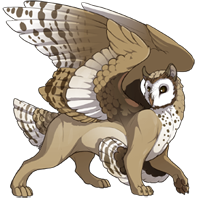 Banded Owlcat
The banded owlcat moves silently, both in the air and on the ground.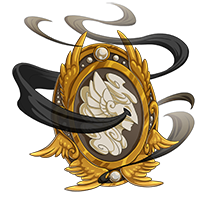 Banshee Brooch
A whispered wail escapes this brooch, urging nearby dragons to affix it to their clothing.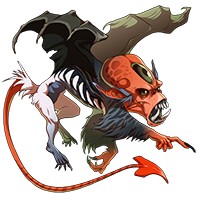 Barhide Menace
Even when asleep, it's always keeping an eye on things...
Barking Jester
Always thrilled to play, this bright canine is the perfect distraction for a lair full of tireless hatchlings. (Colored by Cynderbark.)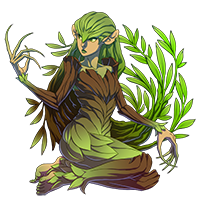 Barkskin Watcher
It's not unheard of for dryads to form alliances with nature dragon clans.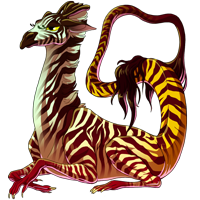 Barred Skira
A creature with a natural sense of humor, it's not uncommon to see a few Barred Skira trying to blend into a Rambra herd.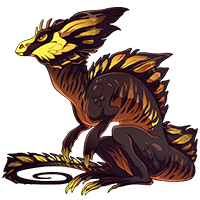 Basalt Vent Hop
This springy lizard uses its powerful legs and the reliable burst of hot air from magma vents to quickly traverse lava floes.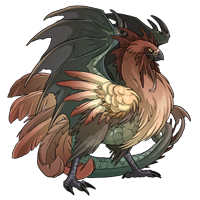 Basilisk
A basilisk's gaze can petrify even the hardiest Earth dragons into stone. Staring contests with this familiar are not recommended.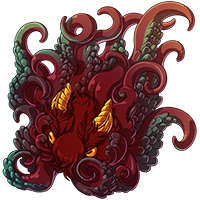 Bearded Pupowl
While many confuse a pupowl for a cephalopod, it is a vertebrate that has closer relations to salamanders than octopi!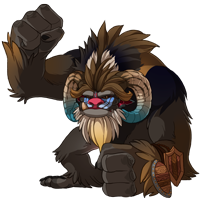 Bearded Yeti
Never surrender. Never shave. (Colored by Akitaxzero.)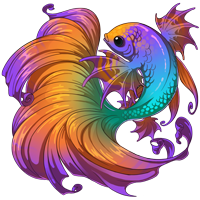 Bellus Glamourtail
This species of fish is known for its ability to rapidly change color. Rather than blend in, they seek to intimidate and infatuate their target.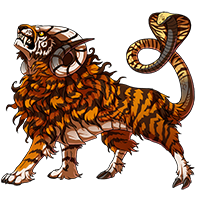 Bengal Chimera
A mix of many rare animals. It can interbreed successfully with species that compose its makeup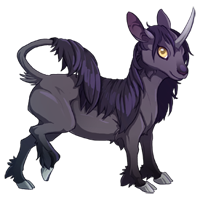 Black Dwarf Unicorn
This dwarf unicorn has lost its magic. Its once shining coat is dull and blackened. The horns of black unicorns are worthless.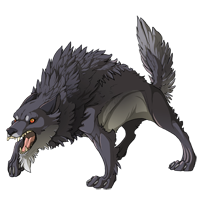 Black Wolf
A number of Winter Wolves never lose their summer colors. These individuals are uncommon and generally smaller than their snowy-coated brethren.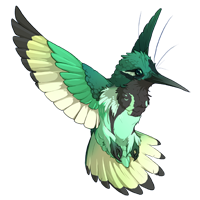 Black-wing Hummingbird
Blackwings are one of the largest species of hummingbird. When in flight, their wings make a distinctive buzzing sound.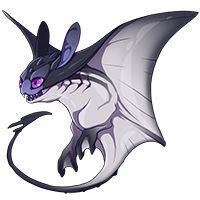 Blackwing Croaker
These creatures spend their early lives swimming in shallow riverbeds. When they mature their fins will have elongated enough to facilitate flight.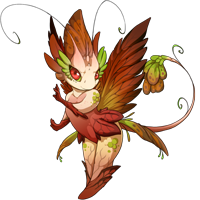 Blight Nymph
A creature of uncommon tenacity. It collects blight for its patron.
Bloodstone Beetle
This iridescent beauty becomes even more colorful once it takes flight.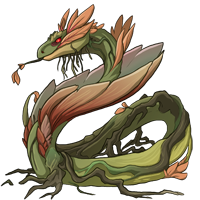 Blooming Strangler
A strangler in bloom is at the end of its life cycle. It is ready to reproduce.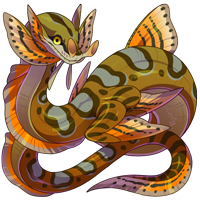 Blotched Quetzeel
Where the common Quetzeel is found primarily in the deep seas, the Blotched Quetzeel has strangely made its home in marshes, bogs, and lagoons. Watch where you step!
Blue Tang Hippogriff
Regarded as a top-tier predator of land, sea, and sky, blue tang hippogriffs are at home in any environment.
Blue Vein Pansy
These flowers fend for themselves, uprooting to seek sunlight, shade, and water as required.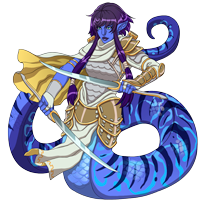 Blueband Duelist
Though Serthis are dangerous enough with their unmatched cunning and lightning fast reflexes, they're even more deadly with the right weaponry.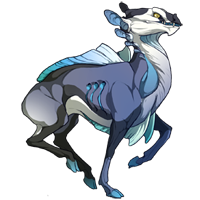 Bluefin Charger
The bluefin charger hunts on thin ice. It will charge its prey, breaking the ice beneath their feet, sending it to a watery grave. The charger itself is semi-aquatic.
Bluelight Chipskink
The static cling is so strong that dragons wearing apparel may end up with several chipskinks affixed to their clothing after wandering through dense brush.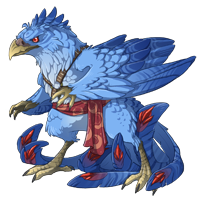 Bluemoon Aviar
Aviar possess complex vocal chords, enabling them to perfectly mimic the calls of local predators and prey. (KS-sponsored by ZeSethis.)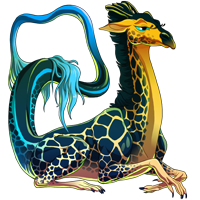 Bluetail Skira
Believe it or not, the tint of this mammal's tail is not natural. Bluetail Skira spend much of their day lounging halfway into ponds and lakes where blue algae likes to mingle with their fur.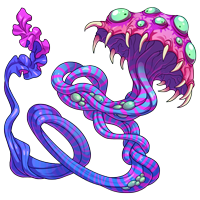 Blushing Tangle
Gravity's laws do not seem to apply to this gently floating creature. What a rebel.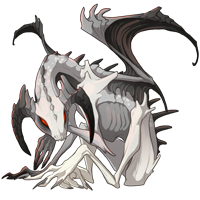 Bone Fiend
Although frightening to look at, bone fiends mostly keep to themselves and the piles of calcified remains that they have collected.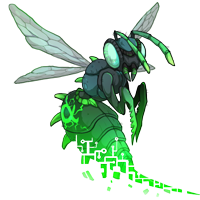 Boolean
. .. .mysql expects parameter 1 to be string, boolean given. .. (Flight Rising Beta Tester gift)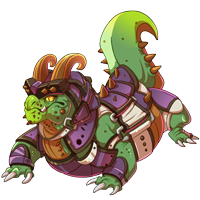 Boran Alpha
It is rumored that boran have extremely subtle magical ability and can attune their power to that of the element of the dragon they most bond with.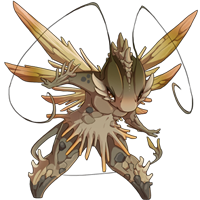 Boulder Nymph
A creature of uncommon strength. It collects boulders for its patron.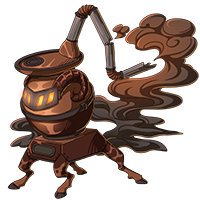 Bouncy Broiler
It is possible to silence this ominously noisy appliance by sending a hatchling down into the lower caves to confront it. A simple "shut up" will do it.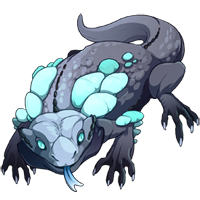 Bramble Guardian
A colony of bramble guardians is sure to keep any lair warded from tiny intruders.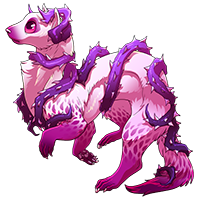 Bramblecrown Stoat
Their tough hide allows them to wrap themselves in bramble covered vines, providing an extra layer of protection against predators.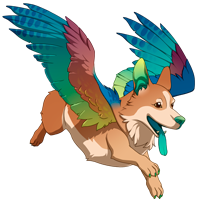 Brightwing Dwarf Hainu
It's not uncommon for these rambunctious canines to get completely distracted by their own beautiful wings. Snap out of it, boy! (Colored by Solarstar.)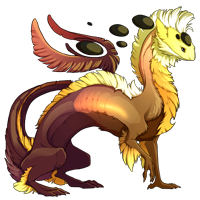 Brilliant Psywurm
Naturally gifted with a photographic memory and a phosphorescent mane. (KS-Sponsored by Mythka.)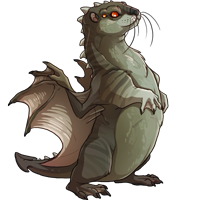 Brown River Flight
A fastidious and precise familiar. The brown river flight is not capable of true flight, but its powerful wings propel it through the water at great speeds.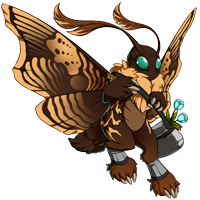 Brown-Spotted Mith
These otherwise passive insectoids become enraged if you pick their flowers.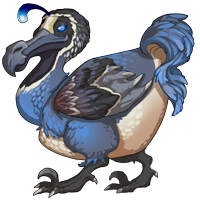 Brush Dodo
Brush dodos will stand perfectly still when they encounter a dragon; this remarkable adaptation will ensure the survival of the species.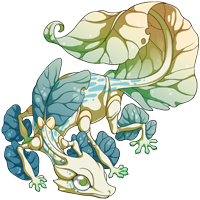 Bubble Brook Gecko
A lovely little lilypad... that moves... and eats things that land on it... lovely... (Colored by Kizmetto.)
Bubble Nymph
A creature of uncommon charm. It collects bubbles for its patron.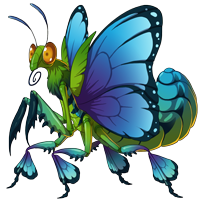 Budwing Morpho
The wings of this mantid never become large enough to facilitate flight.
Buff Laced Cockatrice
Don't tell this cockatrice it missed -and will always miss- leg day. It's plenty buff! (Colored by Whompus.)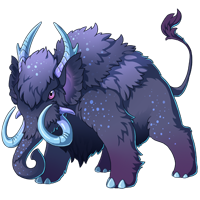 Bullephant
The ice crystals that form its horns and tusks are imbued with naturally occurring elemental magic.)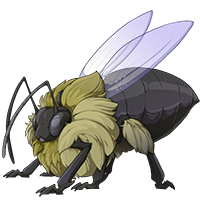 Bumble
Buzz buzz, buzz buzz buzz.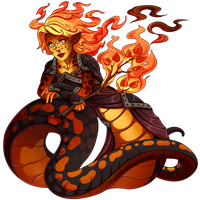 Burning Virgo
The stars align, showing a sign of fervor. (Flameforger's Festival 2020 Holiday Item)
Butter Caiman
This species of caiman got its milky coloration from keeping to dark underground rivers. (Colored by AlpineHell.)
Buttercup Strangler
A valuable part of the woodland ecosystem, stranglers will break down organic material rapidly.
---
Calculating Candelabra
A thick, romantic accent and welcoming grin enchant your senses. You feel like a guest here, but can't quite let your guard down.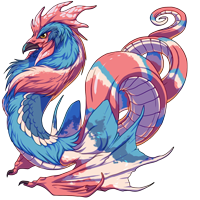 Candy Cockatrice
Candy Cockatrice will only develop brilliant colors if fed a steady diet of concentrated sugar. The colorful ones don't live very long... (Colored by Jasp.)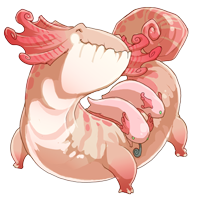 Candycane Xolo
Xolo, Xolo, Xolo, Xolo, Xolo, Xolo, Xolo, Xolo, Xolo, Xolo.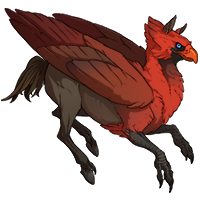 Cardinal Hippogriff
The brilliant plumage of male cardinal hippogriffs is scrutinized by potential mates.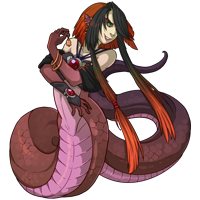 Carmine Serthis
The carmine serthis' scales present a particularly rich shade of red after it has freshly molted.
Carrioncorn
The dreaded carrioncorn is said to stampede in massive herds throughout the Abiding Boneyard, sometimes locked in vicious battles with resident vultures over rare food sources.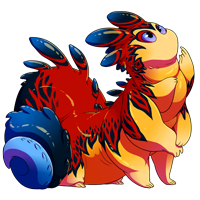 Cauldron Crawler
Able to traverse any surface with ease, gravity is not an issue for the Caudron Crawler!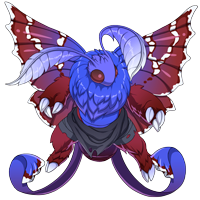 Ceanothus Brawler
Larger than the average mith, ceanothus miths frequently train to act as the vanguard of their fellows.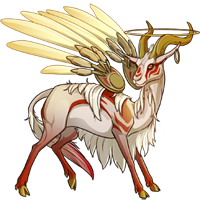 Celestial Antelope
Resembles a creature of draconic legend from a distance. Up close it merely looks delicious.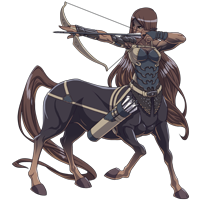 Centaur Archer
Asking a centaur archer 'What's your sign?' is a sure way to put one on your back that reads 'target'.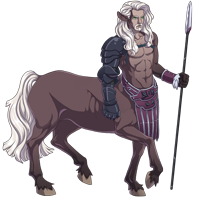 Centaur Bodyguard
Centaurs that take up the position of guard are immeasurably strong, owing most of their "horsepower" to the brawn in their quadrupedal legs.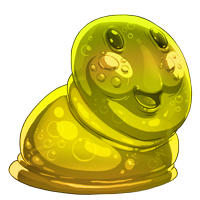 Cheerful Residue
So the experiment was not exactly a success...but somehow you cannot bring yourself to dump the results. Is... is it smiling at you?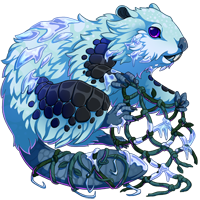 Chillriver Bucktooth
Rather than building dams, these clever beavers construct an elaborate series of nets that span the width of their chosen river or stream.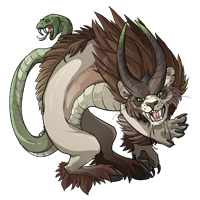 Chimera
A blend of lion, goat, and serpent, the chimera is a dangerous foe. It's giving you a funny look.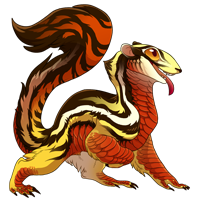 Chipskink
No acorn or insect resembling an acorn is safe.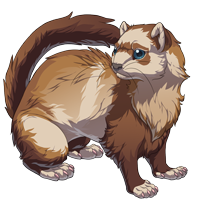 Chocolate Ferret
These little guys get into everything. It's worth the time it takes a dragon to ferret-proof its lair.
Chromefeather Lookout
Step 1: Draft blueprint of robotic guard. Step 2: Revise until prototype is obnoxious and hilarious. Step 3: ??? Step 4: Profit.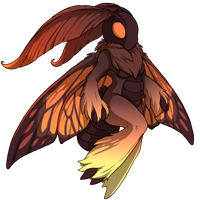 Cinder Mith
An industrial symbiote to clans in the Ashfall Waste, cinder miths can sometimes be found working in tandem with metallurgists and blacksmiths to produce tools and weaponry. (Colored by Craven.)
Cinder Nymph
A creature of uncommon bravery. It collects cinders for its patron.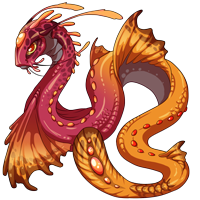 Cinderkelp Loach
A playful loach capable of superheating the water surrounding it for half a meter.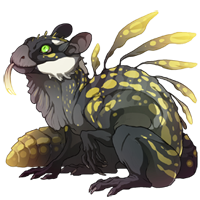 Citrine Cave Jewel
Colonies of these tiny lizards live deep within Dragonhome's cave systems. The glowing fungus they consume contributes to the lizards' bioluminescence.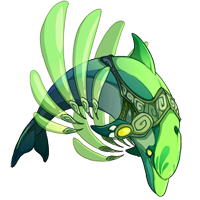 Cloud Chaser
As it ascends into the heavens, the clicks and whistles it emits can be roughly translated to 'So long and thanks for all the fish.'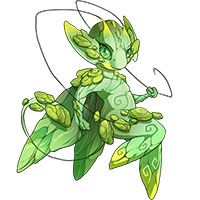 Cloud Nymph
A creature of uncommon curiosity. It collects clouds for its patron.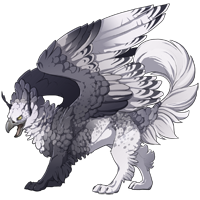 Clouddancer
A playful species of raptor named for their hide-and-seek behavior among cloud banks. (KS-sponsored by Vahilor.)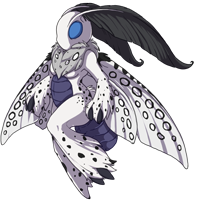 Clouded Mith
Up until recent memory, clouded miths were clouded myths. Their numbers have increased a great deal in the last century. (Colored by Hallea.)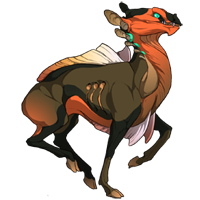 Clown Charger
The clown charger's skin is poisonous. Most dragons consider eating them to be more trouble than hunting them.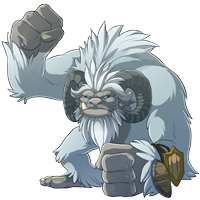 Coarsefur Yeti
A towering yeti with huge meaty fists. Under its gruesome exterior, there's a heart of gold. Or a thousand digested dragon bones...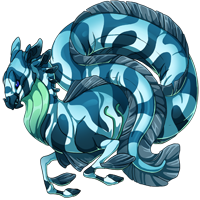 Coast Charger
Unlike its semi-aquatic charger cousins, surf striders live exclusively in coastal waters.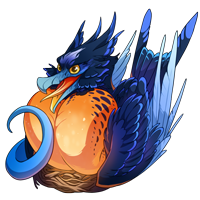 Coastline Sawbeak
Disturbing sawbeak nesting grounds is a suicidal proposition. Saw swarms are a term one never wants to witness.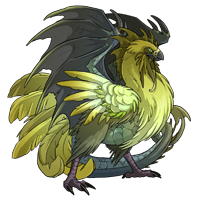 Cockatrice
Don't let the Cockatrice's amusing gait fool you, its screeching crow can freeze a dragon in place.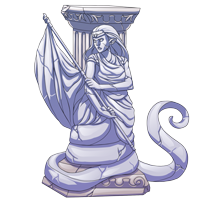 Colubrid Column
The hidden labyrinthine home of the Serthis is decorated with intricate masonry like this, said to be enchanted with the souls of warriors long past.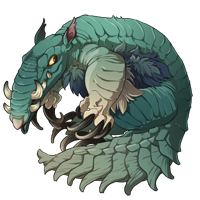 Common Podid
The common podid has uncommonly good taste. Or tastes uncommonly good. It really depends on who you ask.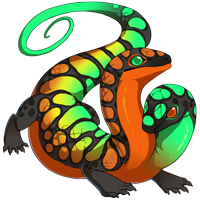 Conjoined Skink
Long thought to be an extremely rare mutation, two-headed members of this species began outliving their single-headed siblings due to the added benefit of being able to watch for predators in several directions at once.
Copperplate Longmech
The copper panels used in the construction of this automaton help power its frame as well as act as a conduit for the machinery around it.
Coral Basilisk
While unable to turn a dragon to stone, a coral basilisk's steely gaze can hold foolish dragons captive.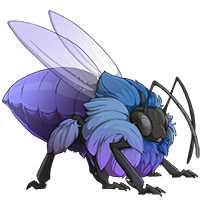 Coral Carpenter
This solitary species of bee lives in coastal areas. It is known for burrowing into desiccated pieces of coral.
Corpse Cleaner
An unfortunate creature makes for a fortunate corpse cleaner.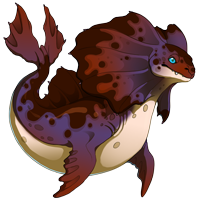 Corrosive Depin
Depin native to Fishspine Reef feed almost exclusively on the poisonous species of fish native to area. Their ability to process the poison leaves their food source uncontested.
Corundum Chameleon
This tiny lizard feasts on insects and gemstones. One provides significantly more nutrition than the other.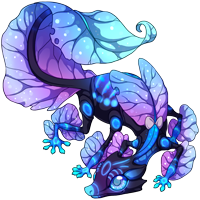 Cosmo Gecko
The more luminous specimens consume a great quantity of fireflies. (Colored by LugiaFly.)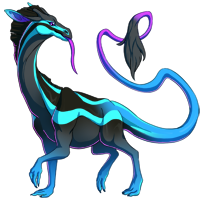 Coursing Skira
These slow, towering plant-eaters carve a predictable route through the savanna, often wearing down a well-trodden dirt path for others of their herd to follow.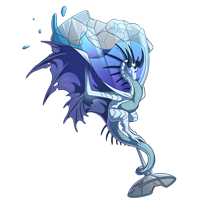 Cracked Crystal
That belonged to a grandmatron - she's going to be very disappointed in you.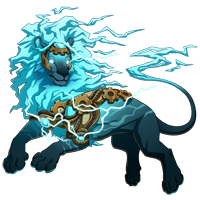 Crackling Leo
The stars align, showing a sign of energy. (Thundercrack Carnivale 2020 Holiday Item)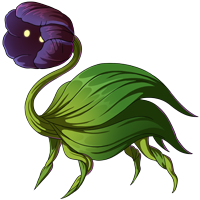 Creeping Tendril
A shy violet that will only move when no one is watching. This is a perfectly normal thing to plant in a garden.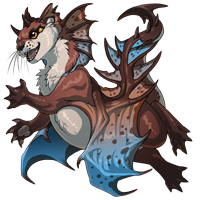 Crested River Flight
River Flights prefer to den in water-adjacent caves and tunnels. They've recently begun to infest sewer systems.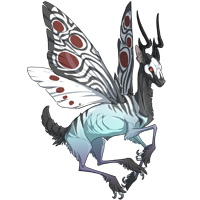 Crimson Emperor
Despite its appearance, the Crimson Emperor is not a malignant creature. Its striking coloration is used to ward off predators. (KS-sponsored by Windswept.)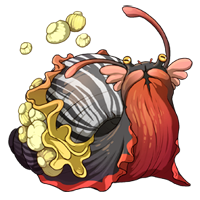 Crimson Reef Snail
The shell of this snail is covered in a variety of colorful coral and anemones. In its reef environment this snail is perfectly camouflaged.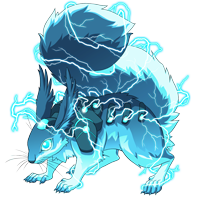 Critical Mass Volten
If you listen very carefully, the chittering of a volten sounds a little something like "aycee-deecee".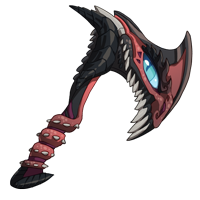 Crooked Hatchet
Don't be fooled, the last thing you want is a weapon that might bicker about which way it's being swung.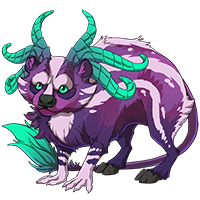 Crowncrest Melprin
Their unwieldy crest prevents the utilization of most burrows, making Crowncrest Melprin easy prey for most predators. They are a rare sight.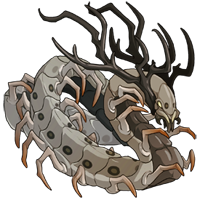 Crowned Bonepriest
The bonepriest's crown grows an additional prong with each successful molt.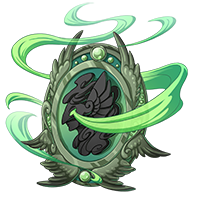 Cryptic Cameo
The beauty and delicacy of the carving on this haunted accessory is obfuscated by a hanging cloud of choking green mist. The wearer feels all at once stylish and trapped.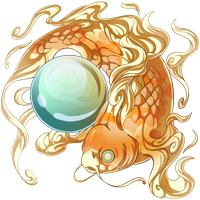 Crystal Carrier
Both this globe and its fishy patron are likely figments of the imagination.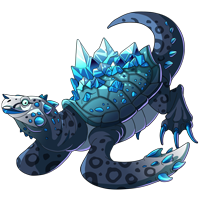 Crystalhide Jester
Knock knock! Who's there? Crystalhide Jester! Who? A turtle cannot write or finish a joke.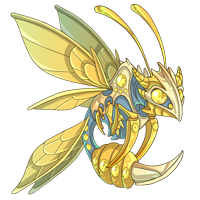 Crystalplate Stinger
When a crystalplate stinger has fallen, it's recommended to clear the area; its passing will attract and enrage others of its kind.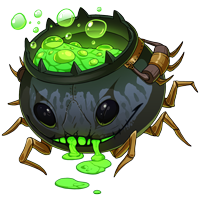 Curious Kettle
Baldwin might nonchalantly refer to this impossible monstrosity as "the one that got away."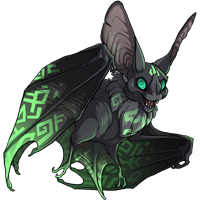 Cursed Bat
What is this bat's curse? That's for the unfortunate soul who catches this one to discover.
---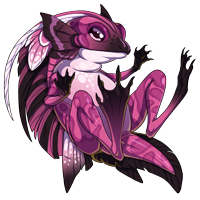 Dainty Wavehopper
Wavehoppers that do not experience a drought during their tadpole phase never metamorphose into an adult that is capable of leaving the water.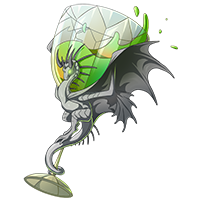 Dancing Chalice
This tricky beverage is always going out of its way to spill itself. Keep it off the rug!
Dappled Dunhoof
You encountered this centaur from the Dunhoof herd while hunting. She decided to stay with your clan to learn your hunting techniques.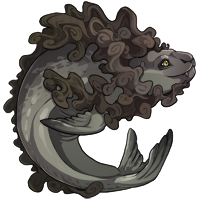 Dappled Seal
The dappled seal will make short work of the fish that are are attracted by its curly mane.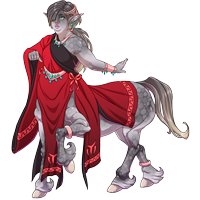 Dapplemane Deceiver
These striking centaurs use their encyclopedic knowledge of deepearth stones, minerals, and jewels to get in the good graces of wealthy dragon clans, before robbing them blind.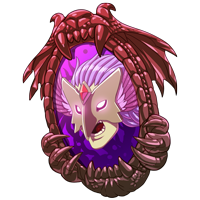 Deadly Reflection
I always feel like somebody's watching me. Who's playing tricks on me?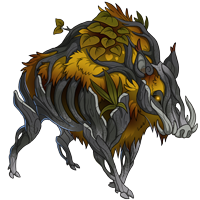 Deadwood Boar
These animated guardians have been mobile for too long and must rest or their foliage will wither and die.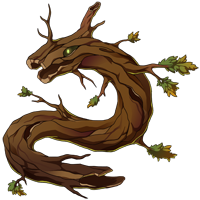 Deadwood Strangler
Watch where you step! These constrictors blend into the forest bed, waiting for to snare unsuspecting critters.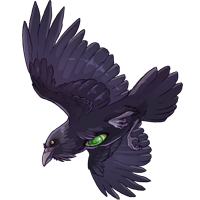 Death Seeker
This murderous bird is blind save for the large, ominous eye on its chest.
Death's-Head Stag
Some consider it a harbinger of misfortune, but most dismiss such omens as old-wrym's tales. (KS-sponsored by Windswept.)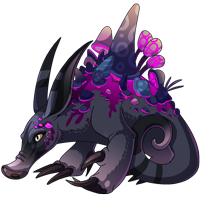 Deepmine Aardvark
This elusive mammal plunders dragon caves for its insectoid diet. Along the way, it amasses benign colonies of glowing fungus that help provide vision in the darkest passages.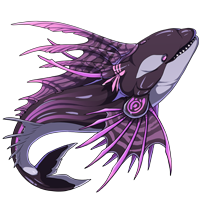 Deeprealm Hunter
A predator best avoided by all but the largest of dragons, Deeprealm Hunters are capable of diving over six hundred meters deep.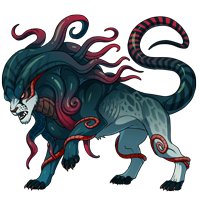 Deeprealm Leon
The tentacles of a Leon's mane are used to grasp its prey, bringing them closer to its claws and teeth.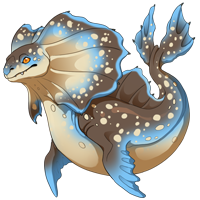 Depin
Their impressive collars are used in displays of aggression.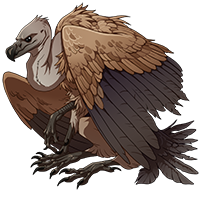 Dire Vulture
Often misunderstood due to its name, the presence of Dire Vultures often means there is plenty of food nearby.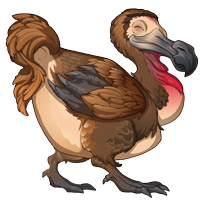 Dodo
Rescued from the dinnerplate of a clanmate, this dodo is something special. Or at least you think it is; well, it's your dodo now...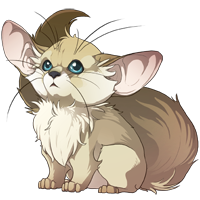 Downy Fox Rat
Though some are kept as pets, downy fox rats are actually a problem for many lairs. They will nest in the walls and spoil a clan's stores.
Dreadram
Dread doesn't even really begin to describe the feeling one should have when this upsetting creature charges.
Dreameater
Despite its fearsome appearance, having a dream eater visit you in your sleep can be a boon, as it will consume your nightmares.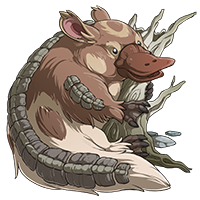 Driftwood Baron
The toxins found in the venom of Driftwood Barons have been used to combat the onset of several strains of Wyrmwound plague.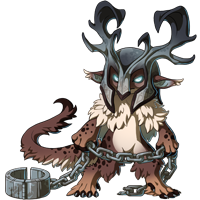 Dripcave Deputy
While the Gaoler clans of the Southern Icefield are formidable wardens in their own right, they also enlist the help of lesser creatures to maintain order in their subterranean stockades.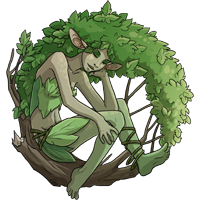 Dryad
Dryads are only seen when spring is approaching, waking from yearlong naps to trim their leafy manes.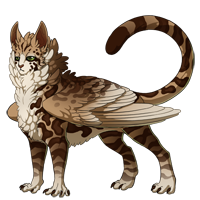 Dustfeather Sphinx
It is not uncommon to see a Dustfeather Sphinx standing completely still. Don't mistake this for stoicism; it can use this unique stance to store energy to aid it in quick and relentless pursuit of prey.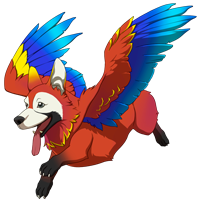 Dwarf Hainu Macaw
You can teach this pup everything... except how to mimic speech. (Colored by Sandwich.)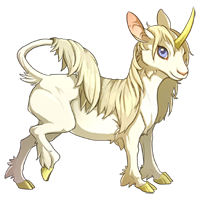 Dwarf Unicorn
Slight and sleek, this unicorn possesses all of the charm, but less than half the magic and size of a true unicorn.
---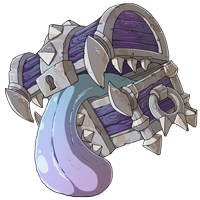 Ectoplasmime
Ectoplasmimes are most often found in haunted areas, hiding between crates, vases, and other furniture. We don't recommend storing anything important inside.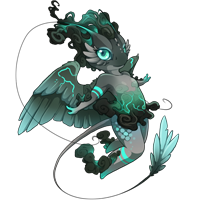 Electric Nymph
A creature of uncommon ingenuity. It harvests electricity for its patron.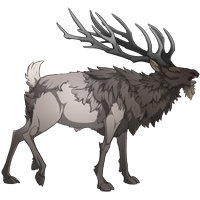 Elk
Favored mounts and companions to fae dragons, its antlers make an excellent perch.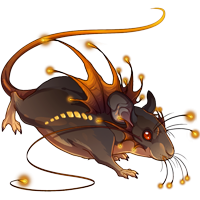 Ember Mouse
This mouse is no more flammable than any other.
Emerald Cave Jewel
One of the few cave-dwelling creatures to possess functional eyes, Emerald Cave Jewels produce their own light source.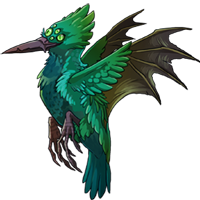 Emerald Webwing
Warped by arcane energies, this twisted bird bears little resemblance to its parents. All its eyes are looking in different directions.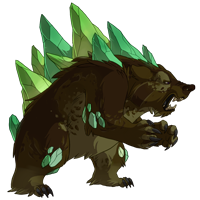 Emeraldback Shardspawn
Hunters discourage the poaching of these somewhat lazy bears for the emerald-like growths along their hide. Trained, they are excellent lair guardians. (Colored by DirkJake.)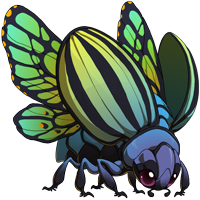 Empress Beetle
It once controlled a vast empire of mites, but now that it has befriended a dragon it has moved on to greater aspirations.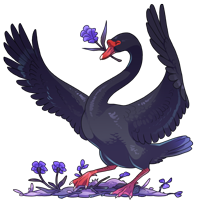 Enamored Swan
These swans are easily entranced by each other and by reflective surfaces.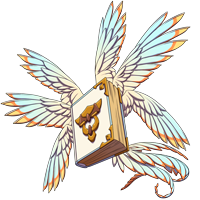 Ensorcelled Volume
After hours of wrestling, this impressive tome finally comes to rest, lets its pages fly open, and reveals... 300 pages of ways to prepare liver and onions.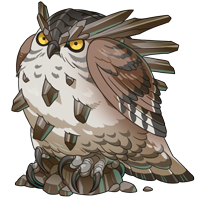 Enstatite Burrower
These small owls will burrow for gems to adorn themselves with in hopes of attracting mates.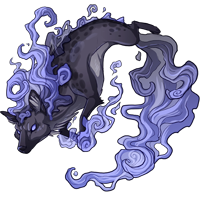 Ethereal Trickster
Catching a trickster in the midst of its trick is much easier than catching the spirit itself. It vanishes as soon as it's been spotted.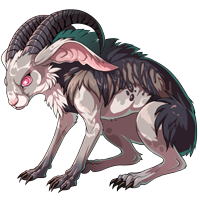 Extinguished Jackalope
Jackalope ensnare bits of dry debris to burn when they forage in dangerous terrain. After this fuel has burned out, the jackalope is vulnerable to predators.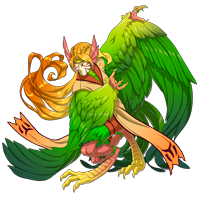 Eye of Talona
These deceitful harpies claim to be defectors of Talona, striking out to forge alliances with dragonkind. Little do many know that they are actually her most talented spies.
---
Fae Ferret
A fancy ferret is called for on certain occassions.
Falconclaw Warrior
Though most harpies employ fairly cutthroat guerrilla tactics to battle their enemies, these practiced warriors rely on their years of blade training to press an advantage.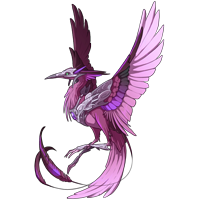 Fallen Streak
The intricate armor worn by streaks is not natural, leading some dragons to wonder who is outfitting these predators.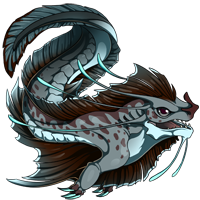 Fanfin Noggle
Adaptable to most freshwater and brackish environments, noggles are survivors.
Fanrat
Sewer sludge has wrought changes upon the locals...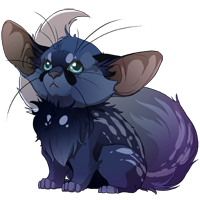 Fawn Fox Rat
The coats of fawn fox rats are prized for their softness. Luckily for this one you decided to befriend it!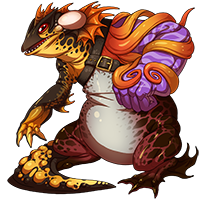 Fear Frog
Formidable juggernauts from a realm beyond, fear frogs inspire dread in both their opponents and allies.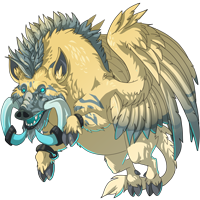 Featherback Boar
Featherback hunts can quickly turn deadly. These aggressive beasts don't go down without a fight!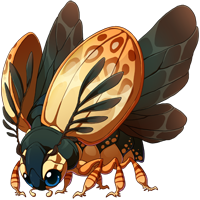 Feathered Beetle
The elongated antennae are able to sense vibrations in the air, making catching a feathered beetle a difficult proposition.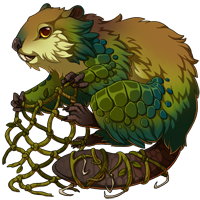 Fenfisher Flattail
Unlike its icy cousin, this plucky mammal doesn't catch fish for its own sustenance, but rather to very primitively barter with shoreline Ridgeback families for nuts, grains, and grasses.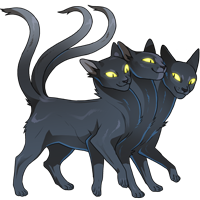 Ferberus
Crossing paths with a ferberus is considered to be extremely unlucky. Fiona has twelve, of course.
Fiendcat
Fiendcats are known as one of Sornieth's only feral predatory mammals to cook their food before they eat it. One pounce works to get a good sear going.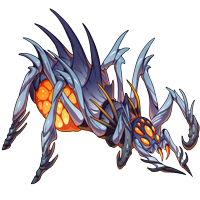 Firebelly Weaver
The chilled webbing emitted by this nasty arachnid is highly flame-retardant. It is not uncommon for weavers to build massive webs above magma vents to catch careless vent-hopping lizards.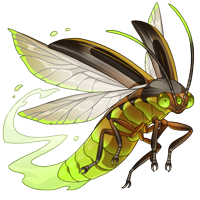 Firebug
While it won't start any fires, it is attracted to them, and anything that glows.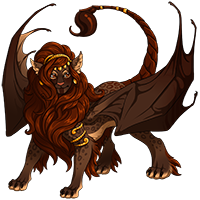 Firemane Manticore
Grace and ferocity all bundled into one: this fiery feline knows how to battle, and knows how to win.
Flamescale Illusionist
The Flamescale clan's mysterious magi draw their power from the powerful tectonic activity of the area, culminating in potent spells.
Flamescale Lancer
Though already quick as a whip, these skilled fighters can increase their deadliness by hurling their finely-crafted spears to help close range with their enemies.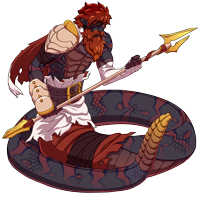 Flamescale Spearman
It's almost impossible to truly incapacitate these grizzled fighters unless you disarm them.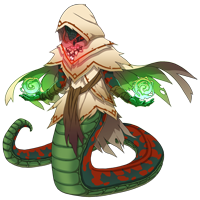 Flamescale Venomcaster
If the heat weren't enough, the mix of boiling hot poisons will likely take care of any would-be assailant.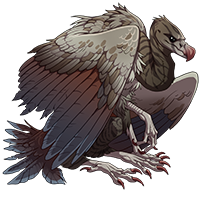 Flesh Forager
These imposing carrion birds are actually extremely tender if you're--how do we put this--alive.
Flora Cerdae
As calm and majestic as cerdae look, they must routinely spar to wear down their horns, which grow at an alarmingly fast rate.
Flower Nymph
A creature of uncommon shyness. It collects flowers for its patron.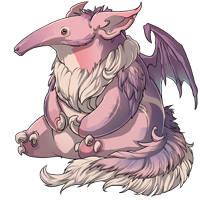 Fluted Pukasloth
The Pukasloth has a pair of webbed wings that are rumored to have once allowed the creature to fly. Nowadays they are vestigial and mostly used for looking adorable.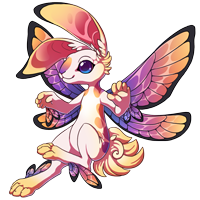 Flutterbun
The yearly nocturnal festivities aren't always consumed by gloom and doom; this very rare and colorful critter surfaces on the shortest days of the year and returns to its burrows as the days start to lengthen.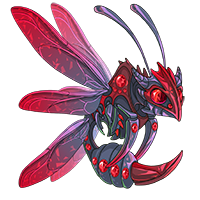 Flutterwing Stinger
Stingers will prey on other insects and spiders: It is not wise to house them with other arthropod familiars.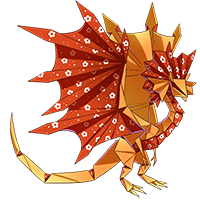 Folded Friend
This bewitched paper has managed to crease itself into resembling a fae dragon.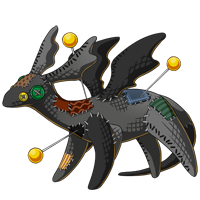 Four-Eyed Phylactery
Someone in your lair picked up this "haunted doll" as a gift in the easternmost bay of the realm. The seaside hawker claimed it was (quote): "Very independent! Do not try to pin this doll down!"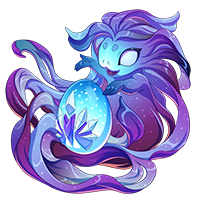 Frigid Gem Guardian
Protector of Ice's elemental gemstones. (Crystalline Gala 2020 Holiday Item)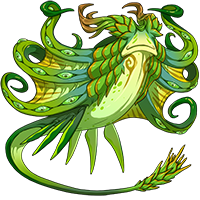 Frogspawn Flyer
Its difficult to see the frog in its lineage, but if it's viewed from the side and one turns their head just right...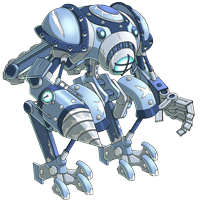 Frost Delver
This automaton has continued to work long after its pilot ran away.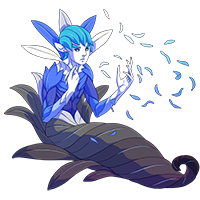 Frostbite Dryad
Frostbite dryads are rumored to guide cold-afflicted travelers into deep snowbank traps. Watch your step!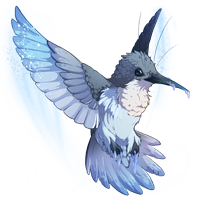 Frostbite Hummingbird
Frostbite hummingbirds are the messengers of the Icewarden. These tiny beings are minor ice spirits and not living, breathing birds at all.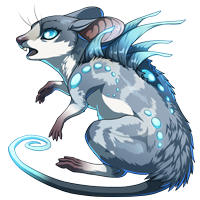 Frosted Pocketmouse
Though they can thrive in a variety of climates, frosted pocketmice are known for their tenacity during harsh winters.
Frosttangle Strangler
The white growths on this strangler's hide allow it to blend into snow-covered landscape of Boreal Wood.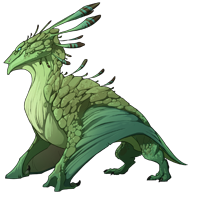 Fuiran
Fuiran are one of the few species in the Shifting Wastes that prey upon Scalebacks. Their powerful jaws are capable of cracking the thick hide.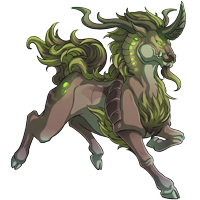 Fungalhoof Qiriq
These creatures leave a trail of vibrant fungi in their wake. Tracking a Fungalhoof Qiriq is easy; surviving an encounter with one is less so.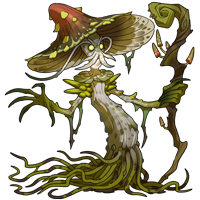 Fungi Sage
Known for its patience and wisdom, its anecdotes are only understood by other fungi.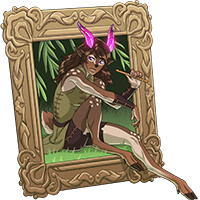 Furious Faun
There are claims that the faun depicted in this painting has been seen in the backgrounds of other works of art, stalking the bushes and hiding in the trees.
---
Gale Wolf
Gale wolves may appear wherever a warm front meets a cold front. During their brief stay on our plane they leave a whirlwind of destruction in their wake.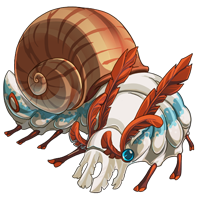 Garden Larail
Larails are a gardener's nemesis. However, they will try and feed on the shells of their fellows, so populations never grow too large.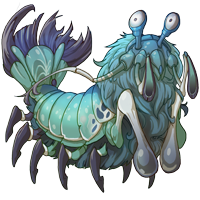 Gaseous Megashrimp
This enormous decopod releases millions of tiny bubbles from its carapace to ward off predators. But really, who is afraid of bubbles?
Gearspring Pocketmouse
It's rumored that if the key in its back ceases to rotate, this mouse will explode. Do you really have the heart to let that happen?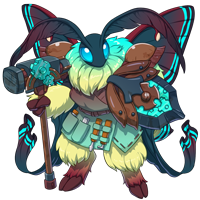 Geartoggle Smith
Supplying most of the armor and weapons for the mith beastclans, these plucky smiths are often underestimated as fragile.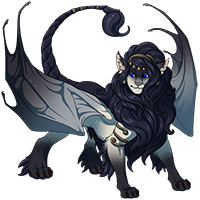 Ghost Manticore
This decorated creature uses its barbed tail and powerful wings to fight targets in the air as well as on the ground.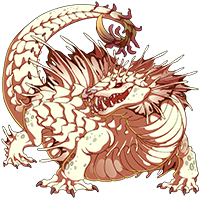 Giant White Toridae
A creature of myth and urban legend! It and its 5,783 cousins are a rare and elusive find.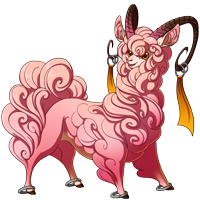 Giggling Planesrunner
These fleet creatures seem to be constant party to a private joke; one that's on you!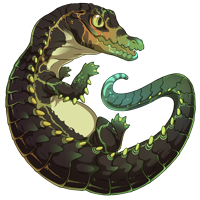 Gladeveins Needletooth
Quite possibly the most dangerous part about crossing rivers and streams, this quick reptile is content to snap at ankles and tails. Watch for its bright yellow eyes! (Colored by Zangoose.)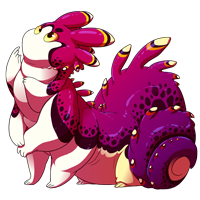 Glam Nudibranch
When one befriends a Glam Nudibranch, it is difficult to get some time away from them, as they latch onto object of their affection and don't let go!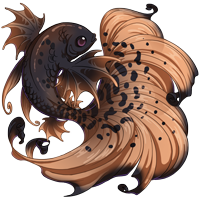 Glamourtail Hopper
These diminutive fish live in shallow puddles. They will use their fins to propel them across short stretches of land.
Glassbound Gustvul
You can often find these napping in patches of sunlight during the day.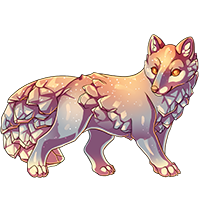 Glassbound Solarvul
Due to their glass-like bodies, they are often preceded by a rainbow prism on sunny days.
Glasswing Flutter
Glasswings regularly shed their wings. The new growth may be of a different color each time.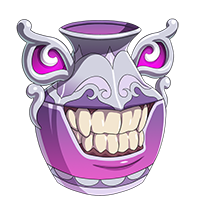 Glazed Sentry
It is said that the tortured soul of a disgraced potter is trapped inside this grinning vessel.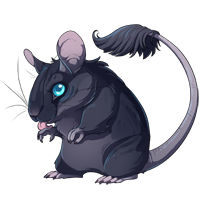 Glossy Duskrat
The duskrat is actually a closer cousin to the common mouse than a rat. They are extremely sensitive to light and only come out after dusk.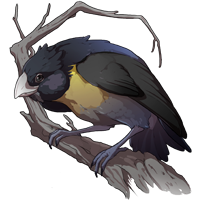 Gold-Throated Sparrow
Dragons who choose to bond gold-throated sparrows as familiars often have a difficult time keeping them out of the bellies of their clan-mates.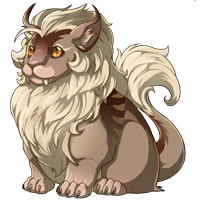 Golden Bantam Fangar
Bantam Fangar lines have been bred to produce a smaller, stockier cat. Their soft purr can soothe hatchlings to sleep.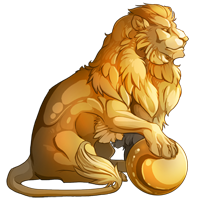 Golden Idol
Once revered by ancient Manticores, this idol makes a really swell door stop for your lair. Bling!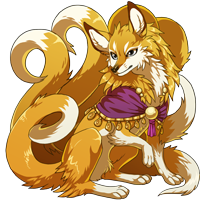 Golden Kitsune
A shining gold fox that will only deign to accompany the wealthiest of dragons.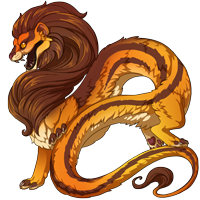 Golden Lionsnake
Lionsnakes can use stored up kinetic energy in their spiral-like bodies to launch themselves at unsuspecting prey.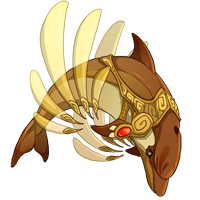 Golden Porpoise
The golden porpoise is capable of leaping great distances over the water.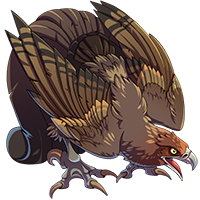 Golden Roc
Golden rocs are smaller than most roc subspecies. Of course, "small" is relative.
Goldenbeast
A methodical grooming may soothe a Goldenbeast where music has proven ineffectual.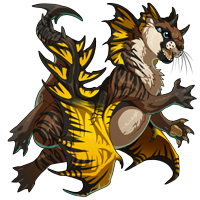 Goldfin River Flight
River Flights spend nearly twice as much time playing as hunting, but they spend three times as much time sleeping.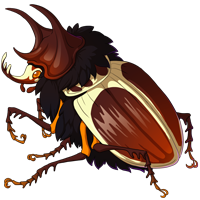 Goliath Mountain Beetle
Its long lifespan and natural armor allow this insect to reach enormous sizes. The largest recorded Goliath had a 7m wingspan!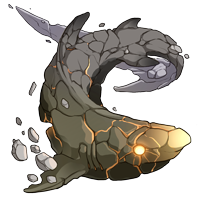 Granite Thresher
The stony tail of the granite thresher can be used as a weapon to stun prey.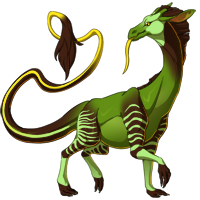 Grassland Skira
Skira use their long necks and even longer tongues to strip leaves from the highest branches of grassland trees.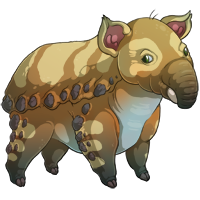 Grasslands Trunker
This small, squat herbivore is almost too docile and cute to eat. You decide to take it back to the lair and bestow "all the cuddles."
Greater Sandstrike
A sandstrike will bury itself until only its spines are exposed. It is an ambush predator.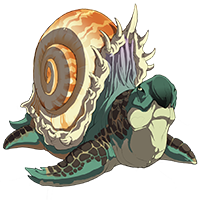 Greatshell
The reek from an expired greatshell is abominable. Young dragons take great delight in depositing uneaten corpses near the lairs of rival clans.
Greattusk
Even the largest and strongest dragons have a hard time besting a Greattusk; their immense size, weight, and sharp tusks make them formidable adversaries.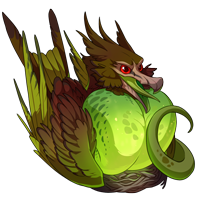 Green-Breasted Sawbeak
A wise dragon will know that it's called a gular sac. A wise dragon will also know it's a bad idea to poke it.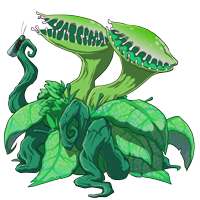 Greenroot Janustrap
One can catch more flies with honey than vinegar - however both of these methods are inferior to using a Janustrap!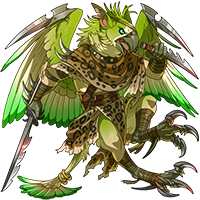 Greenwing Razorclaw
This warrior's uncanny ability to mimic draconic speech allows it to repeat the battle cries of its foes.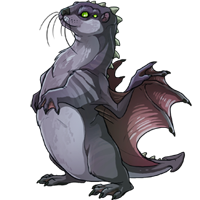 Grey River Flight
A playful and mischievous familiar. River Flights will often sneak into dragon lairs and abscond with shiny bits of treasure.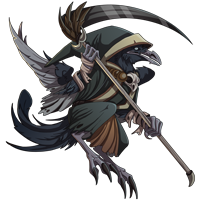 Greybeak Reaper
These fearful Corven are said to be the shepherds of the lost spirits of recently deceased Talonok.
Grouse Basilisk
Breaking the gaze of a grouse basilisk is not too difficult if attacked in pairs; they startle easily!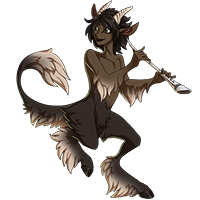 Grove Piper
If one listens very carefully, they can follow the notes of a grove piper's song through even the darkest and most twisted forest maze. If the tune fades, best take a different path.
---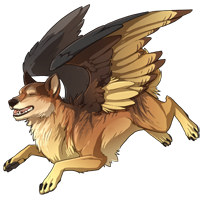 Hainu
Is a group of hainu a flock or a pack?
Harlequin Stagwing
These agile creatures cast dragon-shaped shadows as they dart through the sky. (Colored by Ursus.)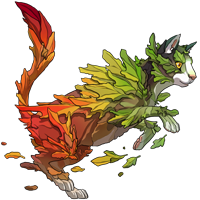 Harvest Floracat
The leaves of this floracat become a brilliant, fiery display before they are shed and regrown each season.(Colored by akitamonster.)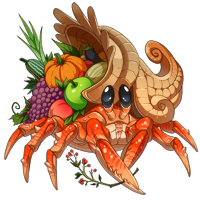 Harvest Hardshell
These tough land crabs don't give a lot of sustenance, but they're experts at taking it.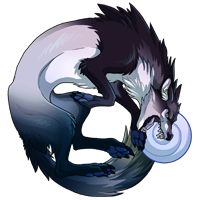 Hati
Brother to Sköll, Hati seeks to devour the moon.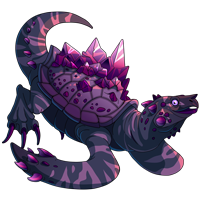 Hawksbill Goliath
A Hawksbill Goliath often out-competes or consumes other aquatic predators in its native pond.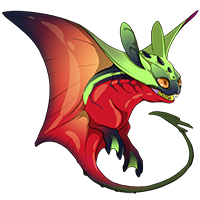 Heartred Croaker
Named for their outer display, heartred croakers are various shades of brown and green on the inside.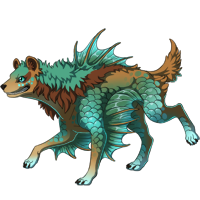 Heckling Hydrena
While they are at home in the water, hydrenas can often be seen skulking among the dust-parched boneyards of dead Greattusks, waiting to ambush overconfident hatchlings.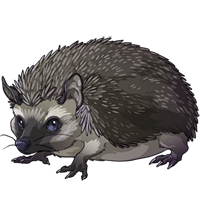 Hedgehog
Hedgehogs remain at the top of the Most Un-Digestible Snack Food list. It's no speedier than any other hedgehog, alas.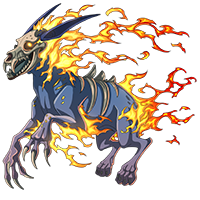 Hellhound
Dire companions, hellhound are incredibly loyal to their masters.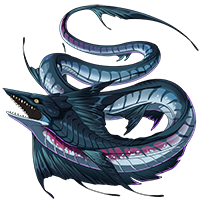 Highfin Sea Serpent
Several times the length of most dragons, these sinuous serpents possess dangerous, spined fins.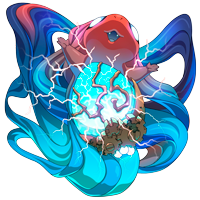 Highland Gem Guardian
Protector of Lightning's elemental gemstones. (Thundercrack Carnivale 2019 Holiday Item)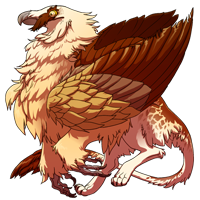 Highreach Bonepicker
While primarily scavengers, Bonepickers will band together to finish off prey that's still got a little kick left!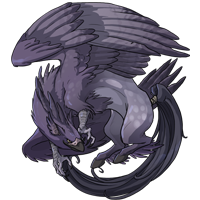 Hippogriff
Hippogriffs are more social creatures than their gryphon cousins. Their ability to consume meat and grain means that more of them may occupy the same territory.
Hippojay
Hippojays are happiest in the sky, but never pass up an opportunity to nap in the grasslands.
Hoarfrost Mauler
A terrifying bearbeast with a really sour expression. I bet it's because there's a bunch of ice shards stuck in his back.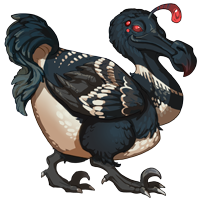 Hooded Dodo
This bird once had only two eyes, but was completely blind. Luckily for the future of the species, it has evolved to possess four additional sightless eyes.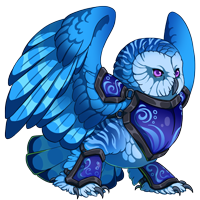 Hulking Greatowl
A preferred mount when non-feathered Beastclans need to become airborne. A greatowl can keep pace with most species of dragon in flight.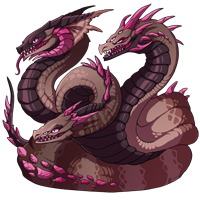 Hydra
Will you forget the head-slicing thing?!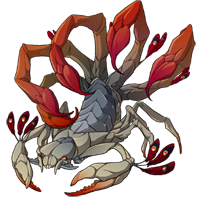 Hydra Scorpion
It is said that if you cut off the tail of a hydra scorpion, two more will grow in its place.
---
Ichor Nymph
A creature of uncommon artifice. It collects ichor for its patron.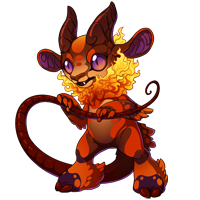 Ignited Imp
Imps are notorious for seeking an evil overlord to follow. Left to their own devices, these creatures' unchecked mischief can cause a lot of damage.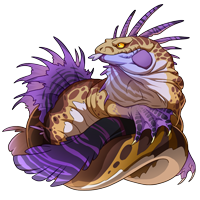 Igueel Matriarch
These large, long-lived veterans are provided with dozens of shiny trinkets by would-be suitors.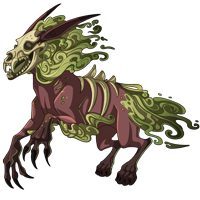 Infestation Hound
Dripping with disease, these hellish hounds disguise themselves as carcasses. They prey on unsuspecting scavengers that come to feast.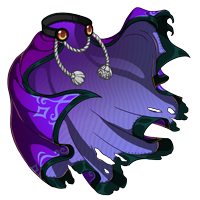 Inquisitive Shroud
Normally, the warning "don't wear a shroud that can whisper" would be enough, but this just goes so great with your new genes.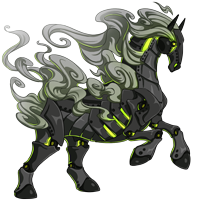 Iron Golem
Ride the iron golem through a storm at midnight; metal!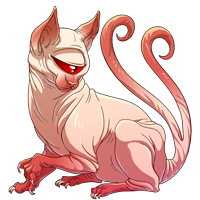 Irregular Nekomata
Its lack of fur should not be seen as detriment, but an amazing opportunity to knit tiny kitty sweaters.
---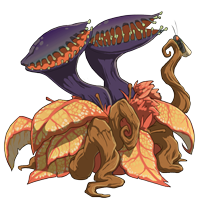 Janustrap
One of the stalks keeps track of where flies will be, while the other monitors where dragons have been.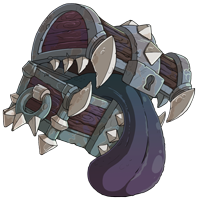 Jawlocker
Jawlockers have sharper teeth than most dragons, and a bite just as powerful.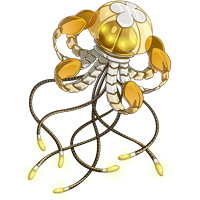 Jelly Drone
There is something disturbingly haunting about seeing the soft glow of these automatons moving from window to window, their internal lighting casting terrifyingly twisted shadows against the walls.
---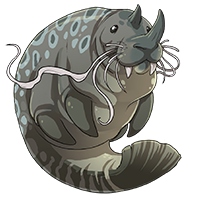 Kelp Tender
These gentle creatures graze on the smaller algaes and grasses that occassionally take root on the surface of kelp forests.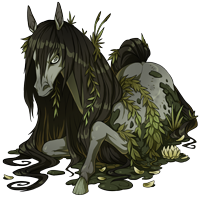 Kelpie
Most dragons are too large to practically ride a kelpie, and as such are regarded as allies, not prey.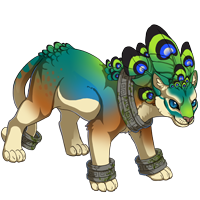 King Parda
King Parda designates neither gender nor royalty; these feline creatures are a much larger subspecies of Parda.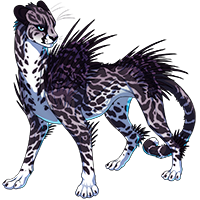 King Quillrunner
Although lionsnakes may seem like the leaders of grasslands, these supercharged cheetahs use the atmosphere of the region to aid their sprints, almost never tiring when closing in on their prey.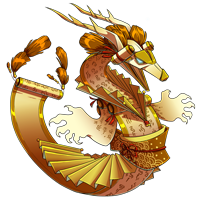 Kyorinrin
Old knowledge has a way of taking on a life of its own.
---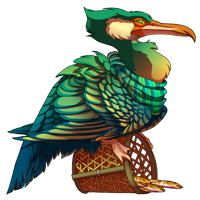 Lakelight Weaver
These raucous birds are known for lifting colorful thread, fabric, reeds, and feathers to weave into vibrant nests.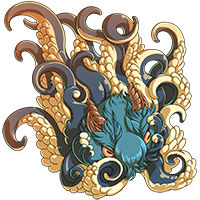 Lap Pupowl
Petting a lap pupowl is a dubious proposition; while they are docile and fond of cuddling, these creatures are covered in barbed bristles that can irritate the hide.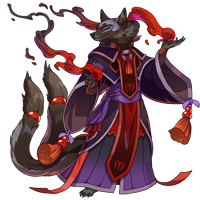 Laybrush Larcenist
The constant windswept rustle of bushes, grasses, and trees are enough cover for clever acts of thievery. Watch your hoard closely on blustery nights.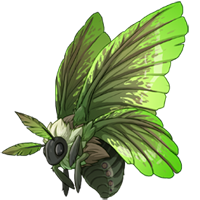 Leafy Moth
This large moth feeds by spreading its chlorophyll-rich wings in a patch of sunlight and flapping gently.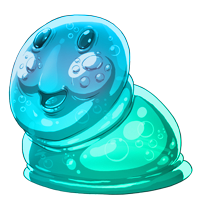 Leftover Residue
The remains of your latest brew are bright blue, which makes absolutely no sense, given what went into it. Ah... science.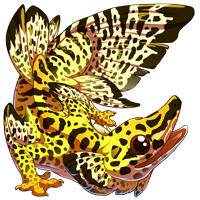 Leopard Coralclimber
During mating season, hundreds of coralclimbers will swim to the ocean's surface, and let out a chorus of chirps. It's very alluring... but only to other coralclimbers.
Lesser Wisp
When resting in crystal, a lesser wisp will slumber contentedly. When loose, they will cause all manner of mischief!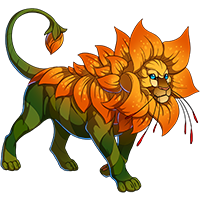 Lilium Floron
Colloquially known as the 'Bramblepelt', this territorial species of floron is covered in a thick brown outer coat of thorns for the majority of the year. It sheds this coat in the spring.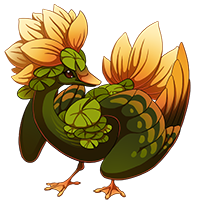 Lilyfowl
This fascinating fowl can actually breathe through the plant-like growths along its head and back, which is helpful considering it spends most of its time partially submerged.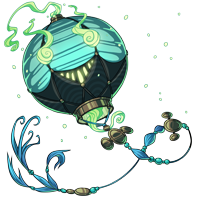 Living Luminance
A brilliant dancing balloon that chooses to float neither up nor down. Unreliable for a birthday party.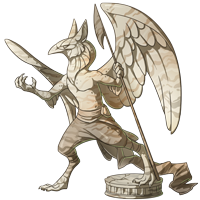 Living Sculpture
This marble sculpture moves to block the path of anyone trying to pass by.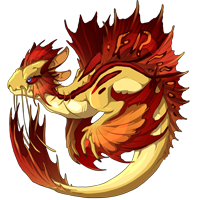 Loga
For the second anniversary it is customary to exchange loga. No one is sure who thought this tradition was a good idea. (2015 Anniversary Familiar)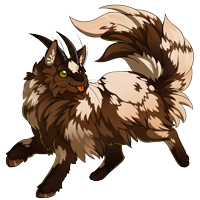 Longhorn Capricat
Impatient, unattended capricats will sometimes eat their food can and all!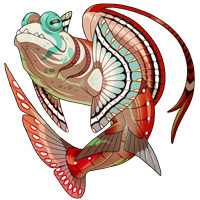 Longjaw Lurefish
A lurefish is a cunning predator. They will burrow into soft mud until only their eyes and lure are exposed. They prey upon the birds who are attracted by their ruse.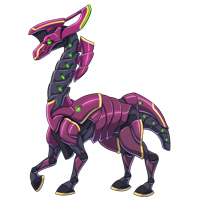 Longmech
The original blueprints for this golem included about ten more segments in the neck, but they were later removed because, c'mon, that's ridiculous.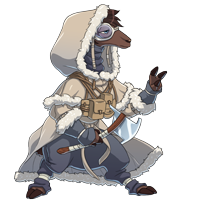 Longneck Hunter
These brave longneck equip themselves with a winter coat over their winter coat.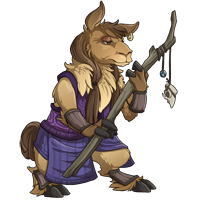 Longneck Magi
Longneck Magi train for years to master the art of harnessing the arcane energies of the world. What comes naturally to dragons is a rare gift in other peoples.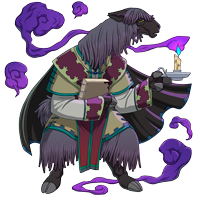 Longneck Medium
Often mistrusted, these occult-seeking acolytes wander ruins and graveyards, calling softly to beings unseen.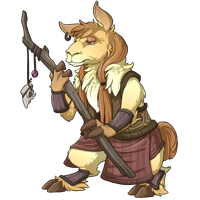 Longneck Mender
Longneck Menders have set aside the staff of war and taken up the staff of healing. They support their clan brothers, sisters, and beasts, creating a formidable team.
Longneck Scholar
Though most Longnecks take up tools of the land, some seek higher forms of learning, opting to lead intellectually.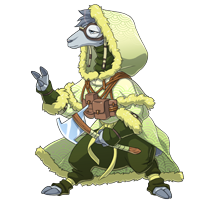 Longneck Wanderer
These adventurous trail blazers are sent to scout and map new territories for the rest of their clan.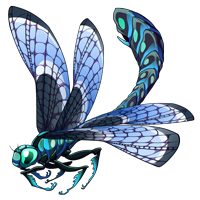 Longwing Epiptite
It takes a patient dragon to raise a Longwing Epiptite from a larvae.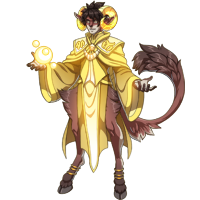 Luminous Ambassador
On the brightest of days, these stoic faun-like creatures can be seen traveling between light lairs, building alliances with dragonkind.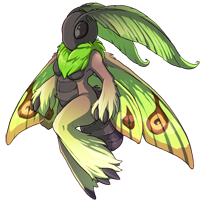 Luna Mith
This otherwordly insect's wings hum with a soothing melody.
Lurefish
While not appealing to a dragon, its tendril is alluring to other fish.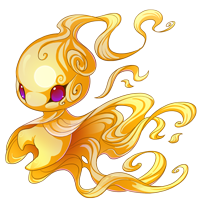 Lux Spectre
These impish spectres appear at the edges of one's vision when the nights are darkest. It remains unknown if they truly exist, or if they are a figment of the mind.
---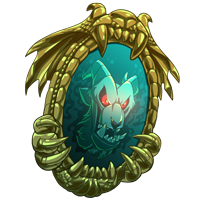 Magic Mirror
Mirror, mirror on the wall, who's the greatest of them all? It's me. It's me isn't it? Confirm!!!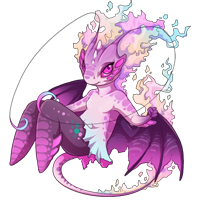 Magic Nymph
A creature of uncommon intellect. It harvests magic for its patron.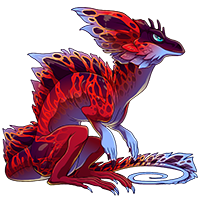 Magma Runner
It is difficult to discern these quick lizards from their surroundings. When the heat goes up, bioluminescent membranes in their leathery skin begin to glow a deep red.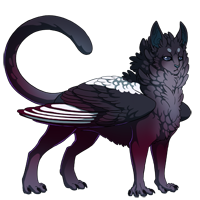 Magpie Sphinx
The Magpie Sphinx will often try to camouflage itself with the sky of the savanna, which is always a roiling amalgamation of the grays and blacks of the storm season.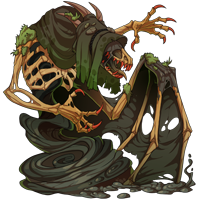 Malevolent Spirit
A lumbering mass of bones. This shambling horror is draped in rotting cloth and surrounded by a shroud of thick mist.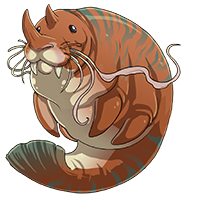 Mammertee
Dragons once mistook mammertee aggregations for schools of maren, taking care to avoid the waters they grazed in.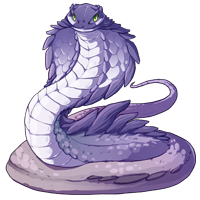 Maned Cobra
The scales of this cobra will stand on end when agitated, creating an impressive mane.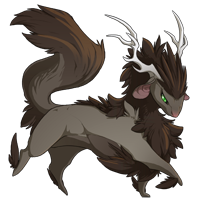 Maned Rasa
The Maned Rasa's winter coat is white. While in its winter garb it is often mistaken for its cousin, the more aggressive Squall Rasa.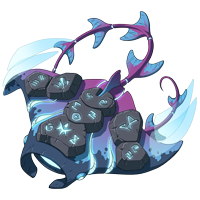 Mantarune
Those who venture into deep waters may see a glimmer in the distance: avoid it.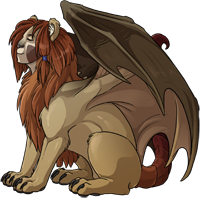 Manticore
It's a grand thing when a manticore deigns to hang around a dragon.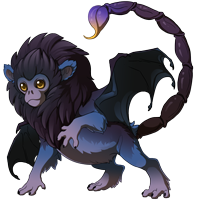 Manticore Screamer
While one of these tiny manticore may appear helpless, it's friends, family, and former roommates are but a scream away...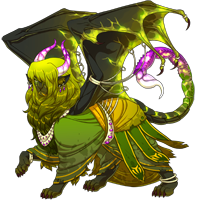 Manticorian Provocateur
Manticore are often hired by other beastclan tribes to perform espionage in thick jungles or dense woodlands due to their exceptional prowling abilities.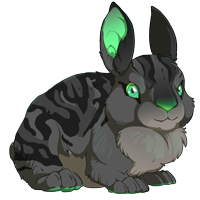 Marbled Jester
Trust the jester for only one night; their nature is ever mischievous.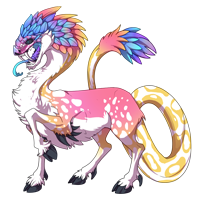 Marbled Serpenta
The brilliant coloring of the marbled serpenta is short-lived; a year after reaching adulthood, it molts and a dull gray coat covers its body. (Colored by weyrbound.)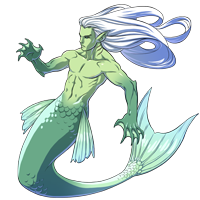 Maren Ambusher
Some Maren bloodlines carry the ability to adjust the chromatophores in the skin, allowing for a chameleon-like defense.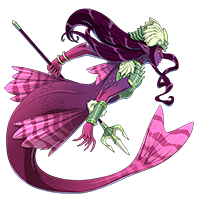 Maren Currentfinder
One must be honorable, fast, and fearless to take up the mantle of currentfinder. Many Maren tribes rely heavily on these champions to find safe paths to new waters.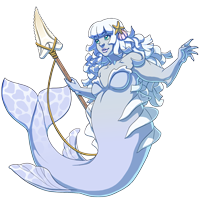 Maren Defender
These warriors stick to the front lines, protecting any civilians and magic users from harm.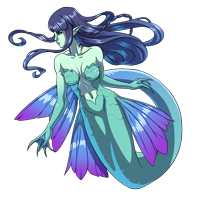 Maren Scout
Maren do not venture beyond their cities without first sending an advance scout.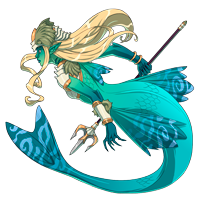 Maren Shark Hunter
Specialized members of each tribe specifically keep a look out for larger threatening sharks and whales.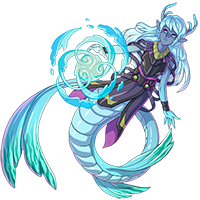 Maren Sorceress
One who has studied the mysteries of the deep water, and returned to tell the tale!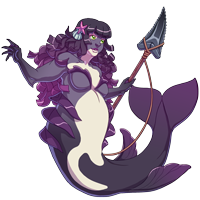 Maren Spearmaiden
It is tradition for young maren warriors to prove themselves by hunting dangerous sharks and terrors of the deep. The fruits of this hunt provide them with the materials for their weapons.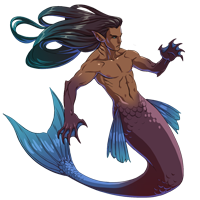 Maren Warrior
Those Maren who take up trident and claw are adept aquatic fighters.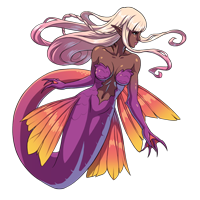 Maren Wavesinger
Maren Wavesingers maintain a strong connection with the elements, and may guide currents to the advantage of their schools.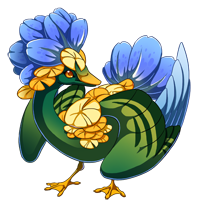 Marshfowl
With the dwindling of lily pads in many marshes, these birds have a more difficult time hiding from predators.
Masked Harpy
Harpies build their nests in many of the same locations where dragons make their lairs. Territory is highly contested.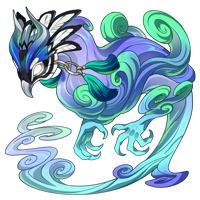 Masked Phantom
The ethereal body of this creature is invisible to the naked eye. One may only see a lone bouncing mask floating down a darkened hallway...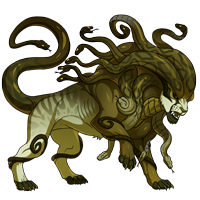 Medusa Leon
While it does not have the petrifying powers of the earth flight, its mane does have a mind of its own.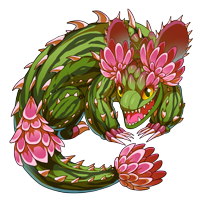 Melon Marzal
Once a marzal ripens, it behaves more like an animal than a plant. Ripe melon marzals will uproot from their parent plant, travel great distances, then burrow to become a new plant.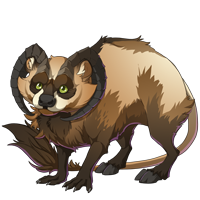 Melprin
A disgruntled Melprin is not easily removed from its burrow.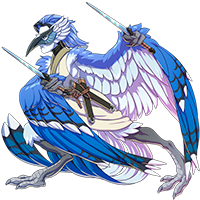 Mesacliff Assassin
A wise dragon is wary of these blademasters; dodging the first strike can often leave one open to the second.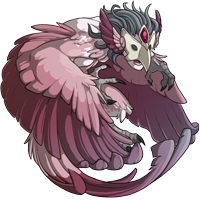 Mesacliff Harpy
The powerful talons of harpies can crush the bones of their prey.
Mesacliff Royal
Harpy royalty is based less on who establishes the most valuable treasures, and more about established families.
Mimic Buttersnake
This buttersnake mimics an angry spirit, or was it the other way around? (Colored by Hund.)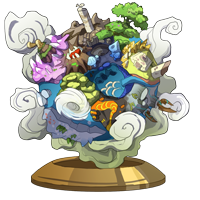 Miniature Sornieth Globe
A miniaturized globe of Sornieth hovering over a polished brass base. Animated clouds move across its intricate surface as it rotates. (Bounty of the Elements Gift - 2018)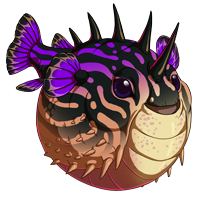 Mirage Puffer
The venom of an agitated puffer can cause a dragon to see double.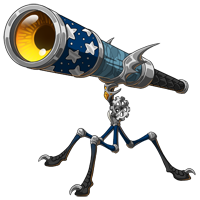 Mischievous Magnifier
Likely to get up and walk away during a stargazing session. Keep an eye on it while it keeps its eye on you.
Mistral Minion
The wind spirit inhabiting this shell is delighted to have more ways to cause mischief!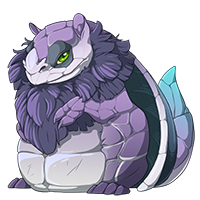 Mistwatch Shellion
Some may find watching mist to be dull, but this Shellion is quite entertained.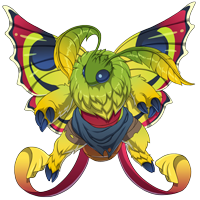 Mith Bruiser
Enjoys throwing its weight around. Pity that weight means very little to most dragons.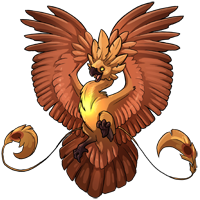 Mock Firebird
The mock firebird is not a firebird at all. This avian's plumage mimics the colors of a true firebird to protect it from predators.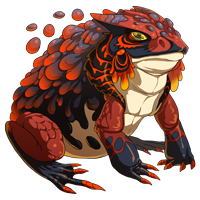 Molten Wartoad
To maintain its magma armor, molten wartoads will ingest and melt rocks.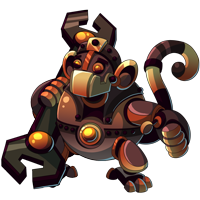 Monkey Wrench
These small golems break everything that they attempt to repair.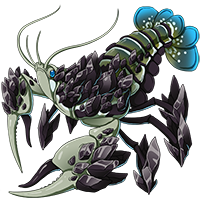 Moonbeam Crayfish
Have you ever danced with a crayfish in the moonlight? If not, opportunity is knocking.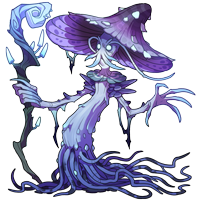 Moonlight Fungi
Nocturnal, these sentient mushrooms are not interested in the passage of dragons.
Moordwelling Trunker
Faceoffs between trunkers are a lot like jousting; they use the hard plates along their flanks and legs to try and knock their opponent off-kilter.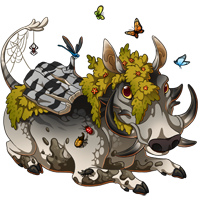 Mossy Beetleboar
Prone to bad jokes and flatulence, the beetleboar spends its days hunting for its favorite snack: beetles.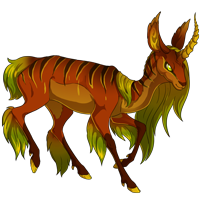 Mossy Cerdae
Unicorns have always produced Cerdae, unicorns without healing abilities. Recently the birth rate of cerdae has skyrocketed, leaving some dragons to wonder if unicorns are dying out.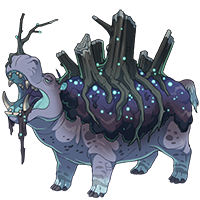 Mossy Pohip
Fantastic at devouring pond flora, except that which is deposited on its back.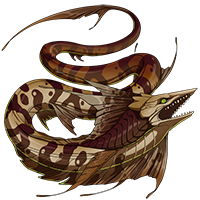 Mottled Sea Serpent
Maren schools have recently begun collecting Sea Serpent eggs in hopes of domesticating the species.
---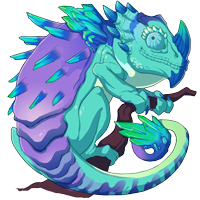 Nephrite Chameleon
Manipulates dragons by pretending to be something that it is not. The color of this chameleon and its gemstones are ever-changing.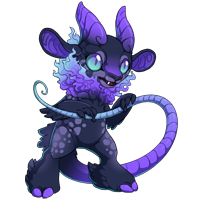 Nightfall Imp
Often seen where lava meets the sea, these elusive imps use the guise of smoke to befuddle assailants, or even trick them into falling in the boiling water off the coast.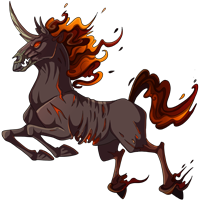 Nightmare
This eerie equine creature is surprisingly sweet, but will only make itself known in dreams to those who have witnessed a death.
Nightsky Fuiran
Scavengers with a keen sense of smell, Fuiran are notorious for digging up the carrion that other desert predators have stashed beneath the sands.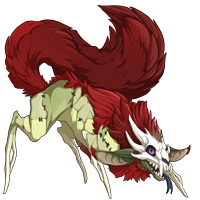 Nochnyr
A haphazard union of spare parts. (KS-Sponsored by Zen.)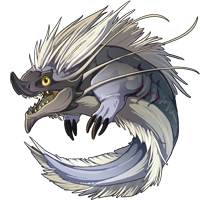 Noggle
Rumored to live in the sewers below the hewn city, noggles are said to grow to astonishing sizes. Dragons beware.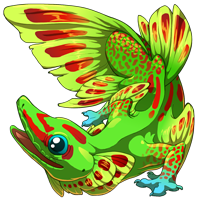 Noxious Coralclimber
The vibrant colors warn off many predators, yet some dragons find themselves fascinated by the hues.
---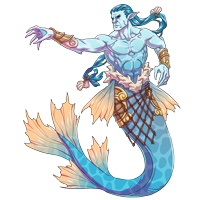 Oceansurf Magus
Decades of study have allowed these scholars to tap into elemental magics previously known only to dragonkind.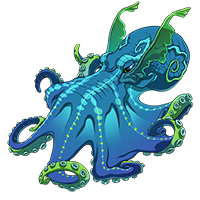 Octoflyer
These invertebrates may leap from the water and glide short distances. Water clan hatchlings enjoy watching them smack into things.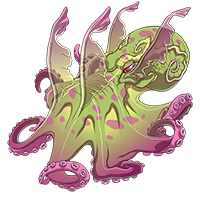 Octoflyer Baron
Octoflyer continue to grow, but few make it past a decade. Those that do reach such a large size that they begin to mutate additional fins to help support them during their water glides.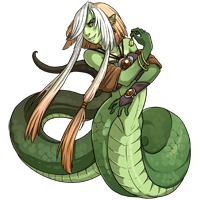 Opheodrys Serthis
While the opheodrys serthis' remarks and quick wit are venomous, its fangs are not.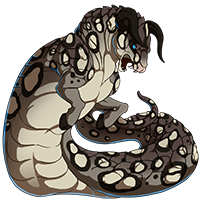 Ophiotaurus
A combination of a bone-crushing squeeze and a powerful front kick is likely what comes at the end of an altercation with this monster.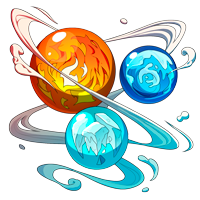 Opposing Forces
Fire! Water! Ice! What could these rival elements possibly come together to encapsulate?! Probably steam...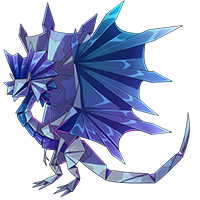 Origami Steward
It's becoming more popular for families of fae dragons to affix these papercraft masterpieces to the branches of the trees they make their lairs on. The sight of them swaying and flapping in the breeze can be a warm and welcoming sight to travelers returning home.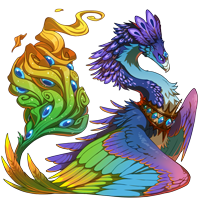 Ornamental Eyewing
There is an old legend that tells of a bird-like creature who can bestow the gift of sight to dragons blinded in battle. No one has witnessed it happening, unfortunately.
Otherworldly Aura
A jumble of bones and magic. When you can't find a familiar, make one!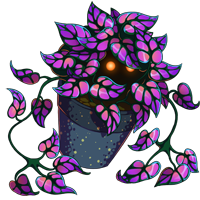 Overwatered Seedling
You've given it sunlight and mineral supplements, what does it want from you? Blood?
---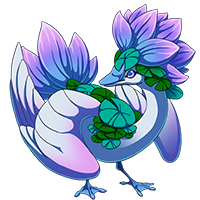 Paddyfowl
Paddyfowl are often a nuisance for Sornieth's smaller amphibians, who mistake the paddyleaves along their body as gentle places to rest.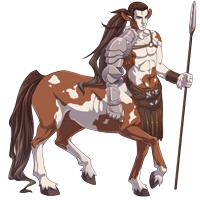 Painted Centaur
Though some centaur will paint their coats before going to battle, others boast a naturally mottled coloration.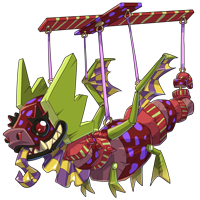 Painted Marionette
A dancing, skittering dragon puppet, moving without a puppeteer. Or is it?
Pangolin Racer
Racing pangolin may be a bit odd, but every dragon's gotta have a hobby. (Colored by MsBarrows.)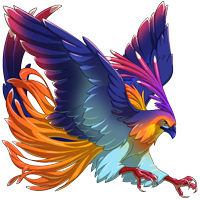 Paradise Zalis
These creatures subsist on a diet of fruit. Their ability to spread seeds across a range is vital to their jungle ecosystems.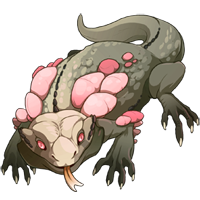 Parasitic Fungus
Parasitic Fungus releases spores into the air that control the creatures they root in. The chances for a spore successfully blooming are small.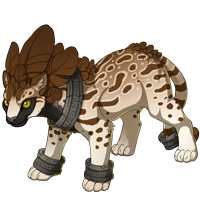 Parda
These evolutionary oddities lay eggs but nurse their young. They also chirp!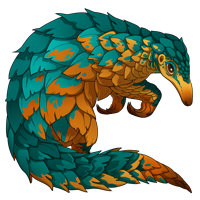 Patina Pangolin
Pangolin are known for digging their own tunnels and passageways into subterranean lairs. (Colored by Nuuskamuikkunen.)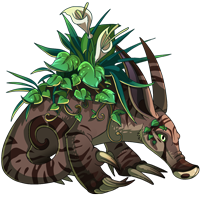 Peacevine Aardvark
This aardvark is known for its strange ritual of hibernating above ground in the middle of spring, only to awaken again during autumn. It then spends a very productive winter below ground.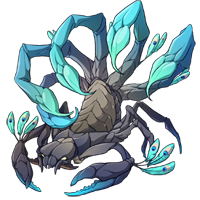 Peacock Scorpion
Male peacock scorpions are considerably more colorful than their female counterparts.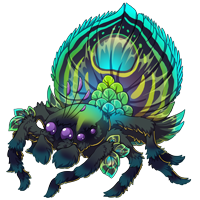 Peacock Spider
With a wiggle and a shake, fast friends you two shall make!
Pebblehide Stoat
When hunted, they can shed on command, allowing them to escape when their pursuers stop to empty the pebbles out of their shoes.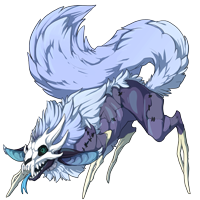 Permafrost Impaler
These creatures freeze, then skewer their victims. (KS-Sponsored by Zen.)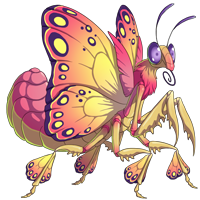 Petal Jumper
These insects are adept at disguising among patches of flowers. They are so adept that other petal jumpers may conceal themselves among their own kind by mistake.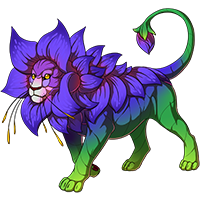 Petalmane Floron
This elusive feline prowls within flower beds, using its natural camouflage for the perfect strike.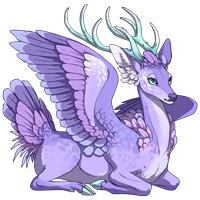 Petalwing Peryton
Though most peryton flocks nest high on cliffs and in trees, petalwing perytons can be found grazing in huge groups where the southern Starfall Isles begin to splinter and freeze into ice floes. (Colored by Virgo.)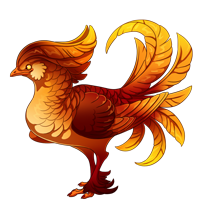 Phoenix
A fiery bird of indeterminate age.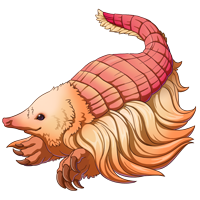 Pink-Tail Mole
Partially blind, mostly deaf, definitely odorous, and frustratingly stubborn, these subterranean critters are quite possibly Sornieth's worst pet. But just look at that face!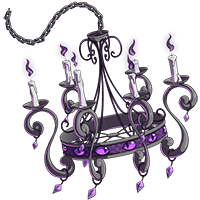 Pitfall Fixture
This intricately-designed fixture serves the efficient dual purpose of being a light source and a strong tool for swinging over perilous gaps.
Plantation Pincher
Agricultural dragon clans view the prevalence of these landbound crustaceans as a double-edged sword: a bountiful season produces both a successful harvest and a rampant pest problem.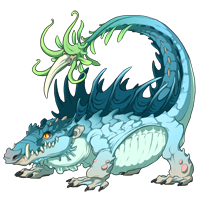 Poisonous Toridae
After Toridae devour large prey items, they burrow into the marsh bed and take root. Water dotted with the blooms of their tails designate plentiful hunting grounds.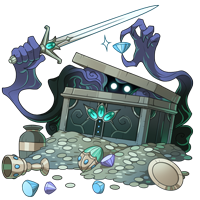 Poltergeist Pile
These spooky receptacles are said to be the ghostly remains of mimics. (You know, in case they weren't creepy enough.)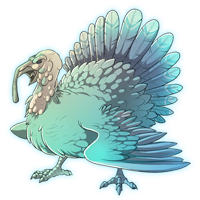 Poultrygeist
A ghastly turkey, gobbling from beyond the grave. This bird was clearly victim of a murder most fowl, strange and unnatural. (KS-sponsored by Madame)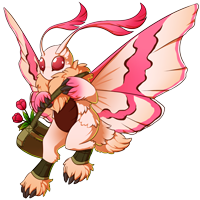 Primrose Mith
These creatures pollinate and collect, taking care never to harvest all of a plant's blossoms.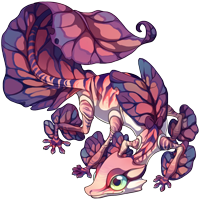 Princess Petal Gecko
Believed to have noble blood, all petal geckos are royal. This one is 124,193rd in line for the gecko throne! (Colored by Herumi.)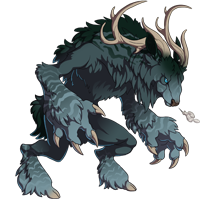 Pronghorn Stomper
Swift and strong, these towering creatures will drop to all fours and chase away anyone that threatens their territory.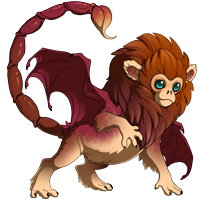 Proto Manticore
This species is believed to be a direct descendent of the first species of manticore.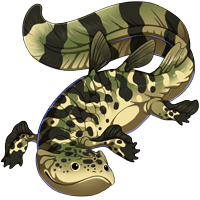 Protobeast
A magnificent animal, returned to the modern world through the powers of science!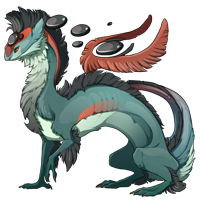 Psywurm
Psywurms love a good book. Usually preferring to nap on the one you're trying to read. (KS-Sponsored by Mythka.)
---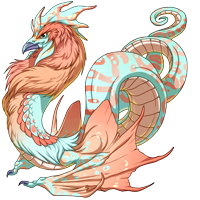 Quartz Cockatrice
Though most cockatrice may turn an opponent to stone, this variety produces a different mineral. (Colored by Wythern.)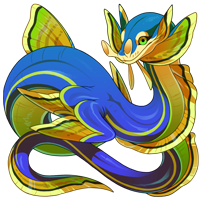 Quetzeel
Quetzeels are a sign of good luck for fishers, as they're hunting patterns closely mirror the peak breeding seasons of many species of fish.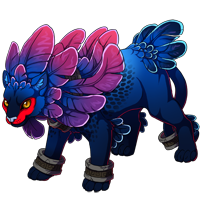 Quillcrown Parda
It is unclear what evolutionary advantage having a built-in feather boa provides, but these parda look fierce!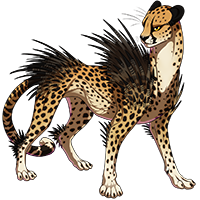 Quillrunner
A fight with a Quillrunner is a dangerous task no matter which way one approaches.
---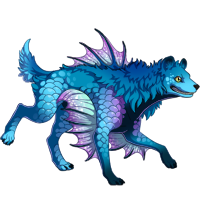 Rabid Grinfin
Having developed an evolutionary affinity for water, it isn't uncommon to come across a family of these hyenas floating in lakes and watering holes to beat the heat.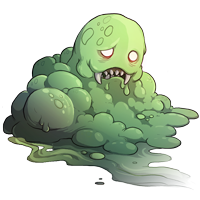 Radioactive Slime
Spawned in The Wyrmwound, this slime has taken on a life of its own. It envelops everything in its path, leaving bones and bare rock in its wake.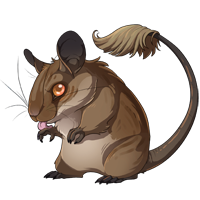 Ragamouse
Ragamice are not content to scavenge the scraps tossed outside a lair, and will plunder the food stores of dragon hoards.
Ragepuff
Sweetpuff and Ragepuff are actually of the same species. Couples typically consist of one of each disposition; one doting parent, and one ball of protective fury!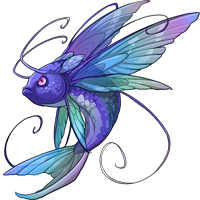 Rainbow Sprite
Be wary of disturbing a hive of Rainbow Sprites. The swarm will protect its home, and retreating to the water will not save you.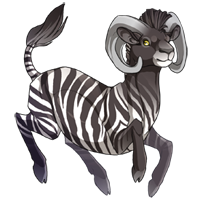 Rambra
Native to tropical wetlands, Rambras are known to charge headfirst into overwhelming odds.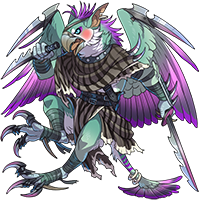 Raptorik Bladedancer
It takes a true master of blades to be able to don so many without an accident.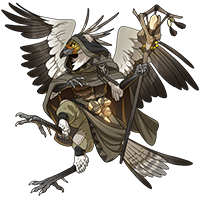 Raptorik Herder
Although agriculture and animal husbandry are rare on the savanna, some Raptorik beastclans have developed a way to lure herds into traps and enclosures for easy hunting.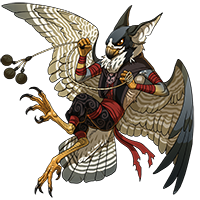 Raptorik Ringmaster
Announces their allies and opponents with a flourish. A coveted position in any arena.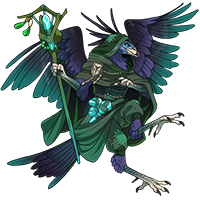 Raptorik Wanderer
These beastclan emissaries act as guides in the great trek across the grasslands. Some tribes have allied with dragonkind to earn a steady income of gold.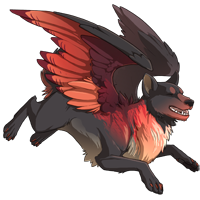 Red-Breasted Hainu
The alpha of each flock leads the yearly migration, taking the lead position in the V-formation.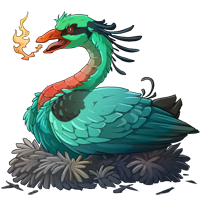 Red-Footed Akirbeak
This peculiar fowl collects any unattended eggs it may find, creating a vast nest of pilfered eggs to brood over.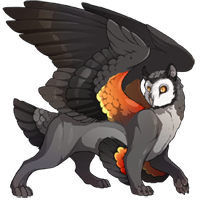 Red-Winged Owlcat
The male red-winged owlcat displays vibrant red plumage across its wings. The female is much plainer, but much more deadly for its camouflage.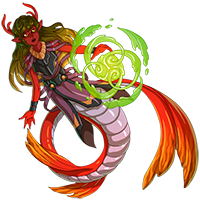 Redfin Wavespinner
A student of the wave, they are adept at using whirlpools to entrap their opponents.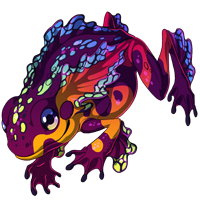 Regenerating Reedjumper
Long-standing scientific journalism has stated that this species of frog can only regenerate 12 times, but that has recently been proven false.
Relic Eel
When slain, the organic portions of this creature wither away. The remaining armored plates collect energy from the currents and may regenerate a new specimen.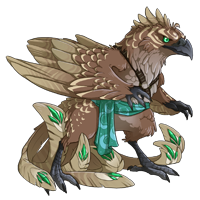 Renegade Aviar
Though incapable of true flight, Aviar are able to glide short distances. (KS-sponsored by ZeSethis.)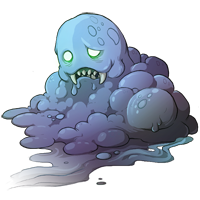 River Muck
Scraped off of the underside of a dock, this river muck appears to be moving...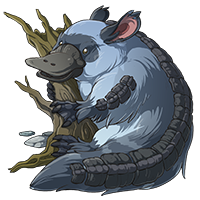 Rivermouth Flatbill
The squawks of Rivermouth Flatbills can carry for a mile. Dragons prefer not to settle near Flatbill territory; the creatures are nocturnal.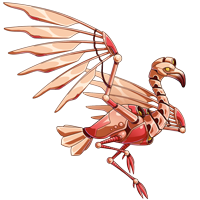 Robotic Tender
Regular flamingos already looked pretty robotic, so this really wasn't that much of a stretch.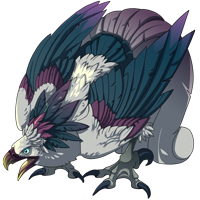 Roc
Like a roc, it was strong as it could be.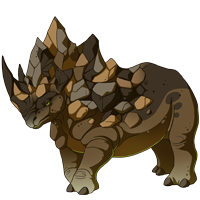 Rockback Charger
The imposing form of this great beast can look like a pile of boulders... until it's too late.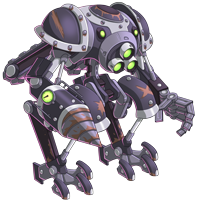 Rogue Excavator
The serial number "R-66Y" is inscribed on the shoulder bracket of this towering robot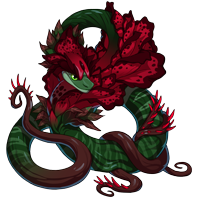 Rosaline Strangler
Many dragons will attempt to plant their stranglers near others with an eye for desirable color outcomes. However, the stranglers have a mind of their own and will often uproot and move to a place more to their liking.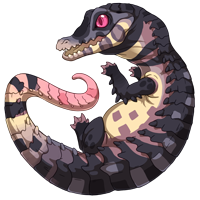 Rosetail
This imposing-looking caiman is actually more afraid of you than you are of it. (Colored by Prawnlegs.)
Rosy Lake Cormorant
Dragons that keep rosy lake cormorants as familiars must learn to live with the fact that any seafood that was about to grace their dinner plate is in great peril.
Rosy Peryton
Though mythology indicates the dangerous nature of perytons, this species has learned to live harmoniously with dragonkind. (Colored by Nochnyr.)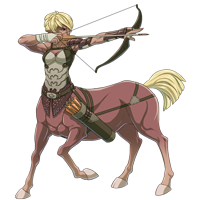 Roughshod Sniper
With the acute talent to be deadly if they so choose, most centaur snipers are utilized for firing very close, intimidating warning shots. These beastclans opt to scare their enemies from getting too near, rather than injuring or killing them.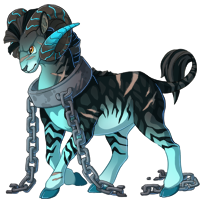 Roundhorn Rager
Empowered by revenge and a strong jolt of electrical energy, this rampaging beast will stop at nothing to trample its would-be captors.
Roving Lionsnake
This offshoot species of lionsnake often spends much more time lying in wait than its golden cousin, using thick grasses and its speckled coat to blend into the terrain.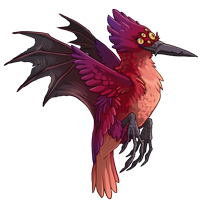 Ruby Webwing
This hummingbird never stops growing. Pray that it is not altered any further.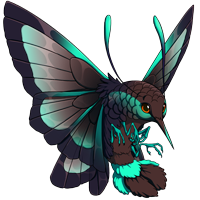 Ruffle Glasswing
Fiercely competitive when feeding, collisions between glasswings are common.
Ruffled Serpent
The result of a crossbreed between a buttersnake and amphithere. These infertile serpents are slow and docile.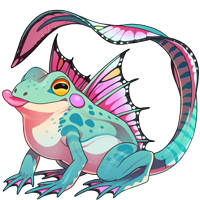 Ruffletail Tadhop
An appealing coloration and an almost cute demeanor masks nature's most unlikely beast of bloodlust. Ruffletail tadhops are not to be trifled with.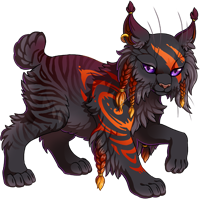 Runescar Lynx
At home in the blistering heat of the Ashfall Waste, these hot-footed felines commonly have the hunting grounds to themselves, until challenged by daring dragon clans.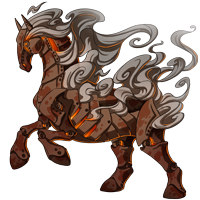 Rusty Golem
This golem's seen better days, but it will always be your truest friend.
---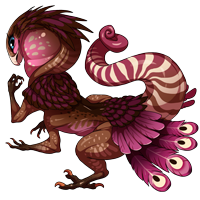 Sable Feathercroak
The springtime brings a symphony of loud croaks, as these creatures seek potential mates.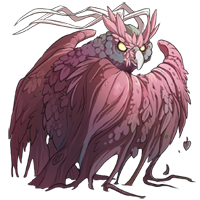 Sakura Owl
The sakura owl blooms only once a year. Many forest denizens will journey long distances to witness the event. Not all of the visitors return...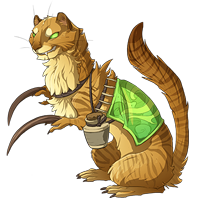 Salve Kamaitachi
The last to arrive to any scene, this kamaitachi cleans up after its inconsiderate siblings. (KS-Sponsored by Larthan.)
Satin Rambra
The thick coat of this rambra is especially smooth and soft.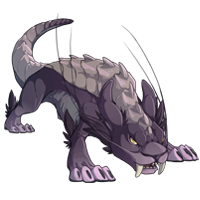 Scaleback
Scalebacks are always smelly, always hungry, and always in a bad mood. They're always a good idea to avoid.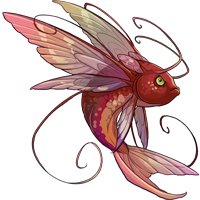 Scarlet Flycatcher
When this ferocious fish is not busy snapping at insects, it can be seen jumping upstream. Even bears know better than to mess with these.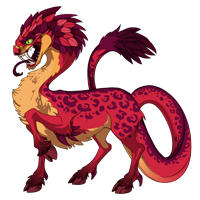 Scarlet Serpenta
The coat of a scarlet serpenta's vibrant namesake is only red for a two week duration each year. When this change occurs the serpenta is dangerous and unpredictable. (Colored by NeroGravity.)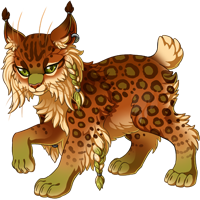 Scorchpaw Prowler
Dragonkind have stiff competition during the summer hunts, and it can be hard to pick off smaller game with these bobcats slinking around.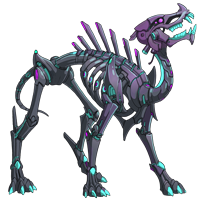 Scrapmetal Tracker
Scrapmetal Trackers are able to sense tiny bits of metal buried in the earth. They dig up these remnants and bring them to their masters.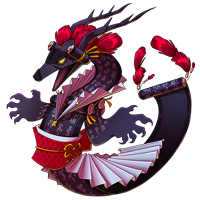 Scroll Stealer
Entire archives go missing when a sticky-fingered spirit goes undetected.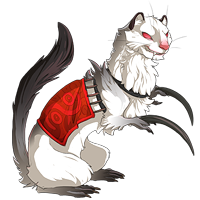 Scythe Kamaitachi
This spirit rides in the wake of other kamaitachi, delivering several shallow cuts to anyone unfortunate enough to stand in its path. (KS-Sponsored by Larthan.)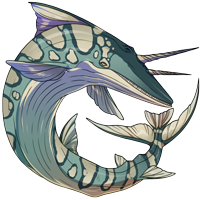 Seaglass Swimmer
Bits of ocean debris that are incorrectly filtered build up inside of these bicorn whales. Upon discovering a carcass, dragons may find a treasure trove of resources inside! (Colored by Frye.)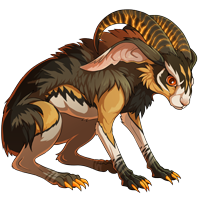 Searing Jackalope
This species of hare has flame retardant coat. When navigating scorched terrain, stray embers are frequently caught in its horns.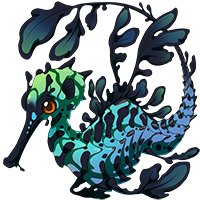 Seaweed Scavenger
Seaweed Scavengers will harvest fresh stalks of seaweed to maintain an ideal sanctuary in which to raise their young.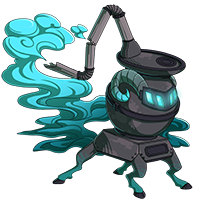 Seething Stove
There is an otherworldly energy source burning within this monster, but you're unable to get close enough to find out what it is.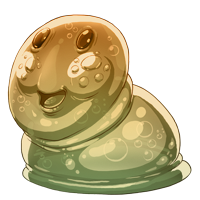 Sentient Alloy
This globule is capable of thinking and feeling and making its own decisions; too bad it will never be taken seriously with a face like that.
Sentry Squawker
For when warning beeps, tones, alarms, whistles, horns, and blasts just aren't enough.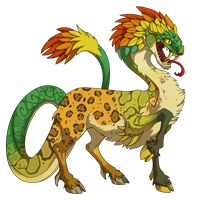 Serpenta
It's difficult to discern what the serpenta is hoping to camouflage itself as, but you're pretty sure it doesn't need to. Run! (Colored by arctictis.)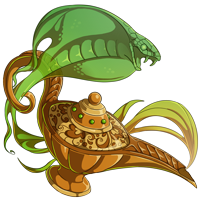 Serpentine Lamp
The spirit of this lamp has been known to throw a hissy fit.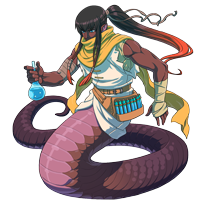 Serthis Alchemist
Its deadly natural venom is not the only toxin one must contend with when battling a Serthis.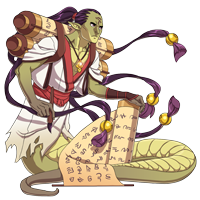 Serthis Archivist
Scrollkeepers for the Flamescale clan, these studious serthis are careful to protect their writings from wayward embers and open flames.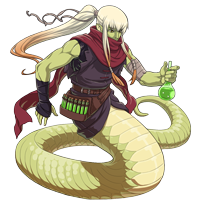 Serthis Potionmaster
This potions specialist has been trying to teach shadow magic for five years... but the congregation keeps passing him over for less-experienced Serthis.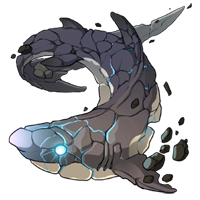 Shale Thresher
The hide of the shale thresher flakes as it grows, forming many sharp ridges.
Shalebuck
While not very fast, they are extremely difficult to move, displace, or chip. (KS-Sponsored by Tumblebuck.)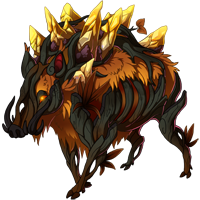 Shardspine Boar
Guardians who remain buried for many seasons may begin to absorb the energy of the earth.
Shatterbone Vulture
In a stunning natural role reversal, the undead Shatterbone often finds itself center of attention of other carrion birds.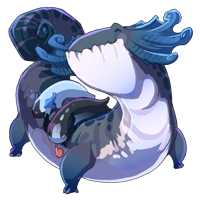 Shimmering Xolo
These salamanders will carry their young on their backs from egg to adolescent. They are one of the few amphibians to produce small clutches.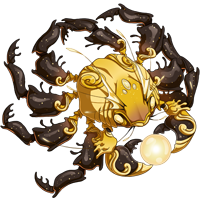 Shining Cancer
The stars align, showing a sign of brilliance. (Brightshine Jubilee 2020 Holiday Item)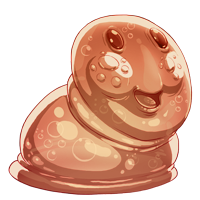 Shiny Residue
This reflective glop has gotta be good for something. Better hang onto it, just in case.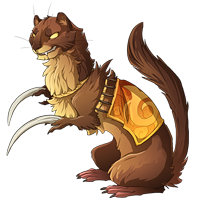 Sickle Kamaitachi
This spirit has a fiery temper, and charges headlong into battle, knocking down its foes. (KS-Sponsored by Larthan.)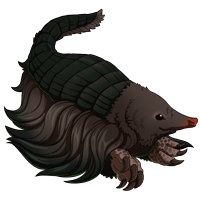 Silky Mole
It's really hard to keep your hair looking this good after digging around in the dirt all day. Show appreciation where it's due!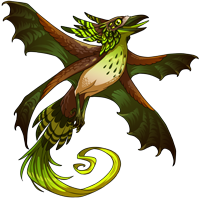 Silky Webwing
One of the many mutations that this webwing has undergone has left it with luxurious plumage.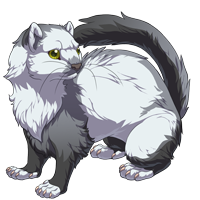 Silver Ferret
Naturally clever, silver ferrets can be trained to steal treasure from rival clans.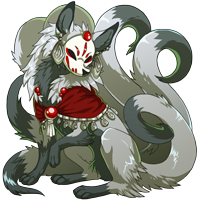 Silver Kitsune
The mask of the silver kitsune changes pattern with the phases of the moon.
Silvermane Barbtail
These stoic creatures are routinely mistaken for elaborate stone-carved statues; they frequently stand perfectly still for several hours, waiting and watching. (Colored by Roro.)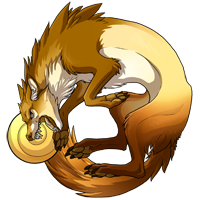 Sköll
Brother to Hati, Sköll seeks to devour the sun.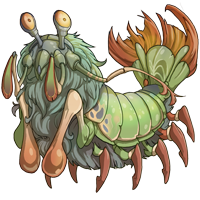 Skittering Megashrimp
This imposing crustacean uses the giant fins of its tail to gracefully swim through the water. It uses its ten legs to hobble very poorly and comically across land.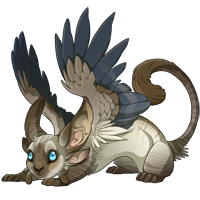 Skycat
Flocks of skycats will escort dragons through the Windswept Plateau, flying in the wake of the larger drakes.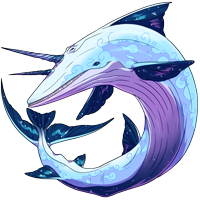 Skycrest Bicorn
Thought by many to be a myth, these timid creatures may only be seen by virtuous dragons. (Colored by Bachuchuru.)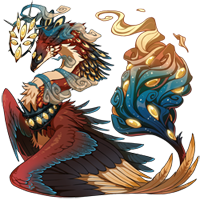 Slight Eyewing
This graceful, celestial bird uses its many supplemental eyes to easily escape anything, from the sneakiest predators to the very best ornithologists.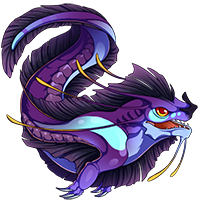 Sludge Sifter
These noggles subsist on a diet consisting entirely of sewer sludge.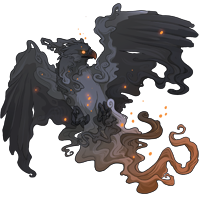 Smoke Gyre
Smoke Gyres often herald the arrival of their much larger, more destructive cousin, the Firebird.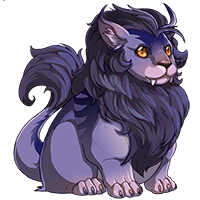 Smoky Bantam Fangar
Dragons bonded to bantam fangar are easily identifiable by the cloud of fur that dusts their scales at all times.
Smoldering Sconce
It is rumored that these bewitched furnishings can never truly be extinguished. Once one flame is put out, another springs to life.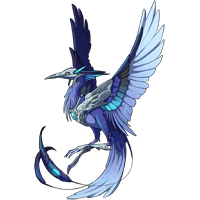 Snow Streak
Snow Streaks are sometimes found frozen in place after particularly large snowstorms. They are easy prey.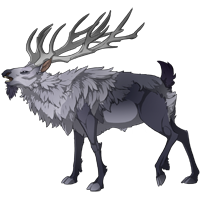 Snowfall Elk
The snowfall elk is crowned by an impressive pair of antlers that are never shed. Elder elk are often brought down by the weight of them.